Press Release
Partnership with CardioSignal
OMRON Healthcare announces partnership with CardioSignal, establishing a cross-company cooperation to innovate early Cardiovascular Disease Detection and Remote Patient Monitoring at scale.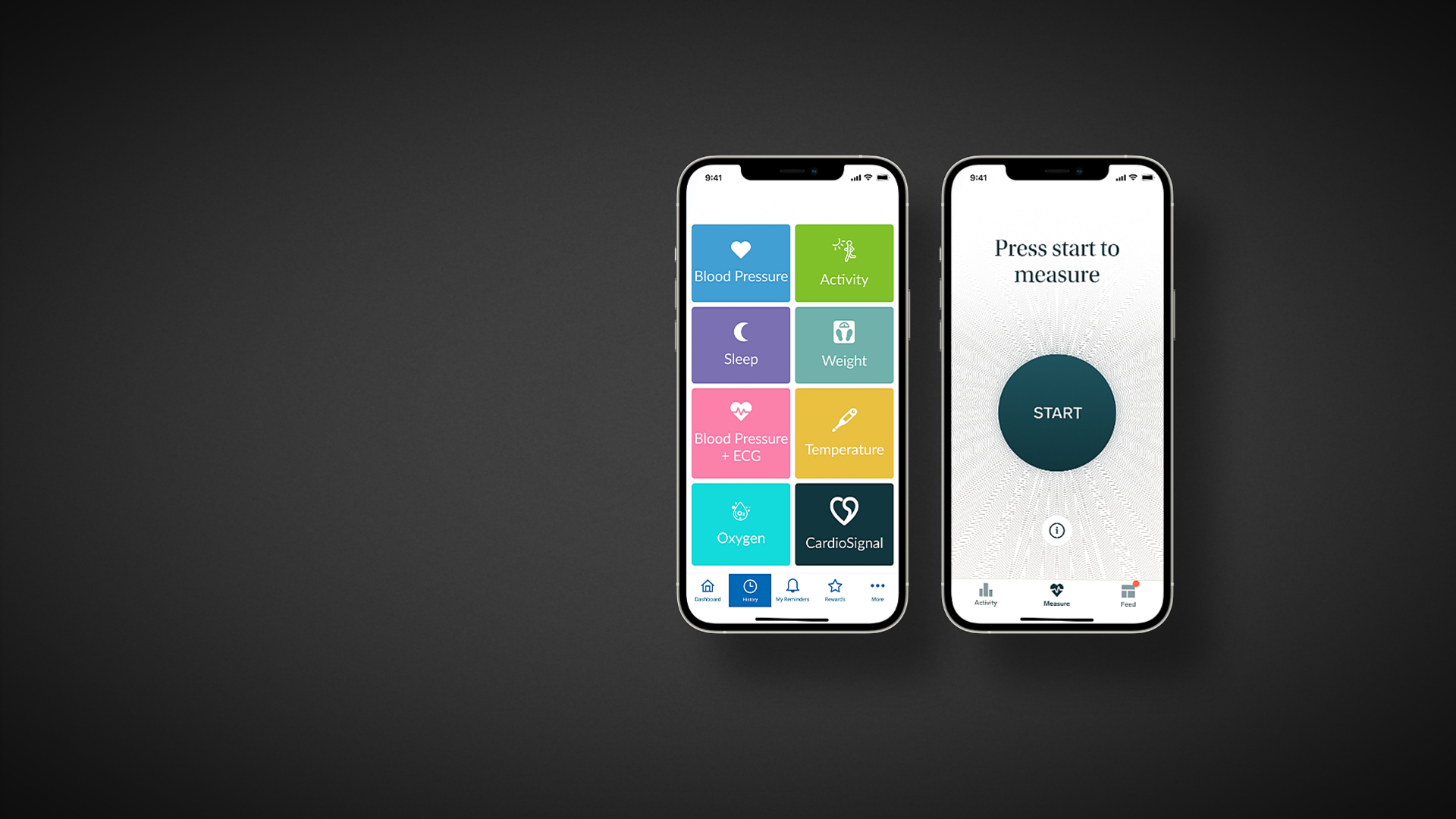 Press Release
Partnership with CardioSignal
OMRON Healthcare announces partnership with CardioSignal, establishing a cross-company cooperation to innovate early Cardiovascular Disease Detection and Remote Patient Monitoring at scale.
CardioSignal Atrial Fibrillation detection becomes available in OMRON connect app Premium Service in selected countries.
KYOTO, Japan, November 8, 2022 – OMRON Healthcare, Co., Ltd. today announced a partnership with CardioSignal aimed at bringing innovations in early cardiovascular disease detection to support clinicians at the forefront of Population Health management.
The two companies will collaborate to build digital health solutions that optimize workflow processes for life-style chronic diseases, especially for cardiovascular disease detection at primary care, utilizing the companies motion sensor and ECG technologies.
As a first result of the collaboration, CardioSignal, a reliable and easy-to-use medical application that enables a smartphone to detect signs of atrial fibrillation, will be included in OMRON connect Premium Service in selected countries in Europe¹. OMRON connect is a free app that collects and consolidates the data from OMRON devices and gives users insights that help them take better care of their heart. Additional features and insights are available with the Premium Service subscription.
Atrial Fibrillation is the most common heart rhythm disorder, a condition that is associated with high blood pressure and may be present without symptoms. People are more likely to suffer a stroke or a heart attack when having atrial fibrillation.
OMRON connect helps users with recording their blood pressure measurements and provides in-depth insights for improved hypertension management and risk reduction. The collaboration with CardioSignal allows users to regularly monitor their heart for signs of potential atrial fibrillation with a 96%² detection accuracy³.
"OMRON Healthcare is committed to developing life-saving cardiovascular health technologies in pursuit of our Going for Zero vision to eliminate heart attacks and strokes. When we presented our long-term vision, we said that we will expand business fields to include "the early detection and recurrence prevention of atrial fibrillation." As life-style diseases are known to be risk factors of hypertension and atrial fibrillation we need like-minded partners, like CardioSignal, to advance our initiatives and work together to save lives," says André van Gils, Senior General Manager Global Sales & Marketing HQ of OMRON Healthcare.
Over one billion adults are hypertensive worldwide⁴, and their risk of stroke is nearly five times greater⁵ if they also suffer from atrial fibrillation. The burden will grow significantly in the coming years due to an aging population and a growing number of heart disease risk factors, such as diabetes, obesity, and high blood pressure.
"Our partnership with OMRON Healthcare will provide individuals and healthcare professionals digital cardiac biomarkers that have the potential to save lives. The motion sensor based CardioSignal can detect signs of major heart diseases starting with atrial fibrillation. Accessible with a smartphone, CardioSignal addresses the challenges of timely diagnoses and growing disparity in cardiovascular care. Combined with OMRON's expertise in blood pressure monitoring and remote patient care solutions, we will be able to accelerate the expansion to new services and markets" says Juuso Blomster, cardiologist and CEO of CardioSignal.
We develop groundbreaking solutions for the detection and remote patient monitoring of heart diseases with digital cardiac biomarkers. CardioSignal utilizes motion sensor technology to non-invasively measure cardiac motion and function. Originally an academic spinoff, the company's patented technology is built on a decade of research and algorithm development. CardioSignal is a brand and a product by Precordior, a health technology company based in Finland and United States.
Committed to advance health and empower people worldwide to live life to the fullest, OMRON Healthcare is a global leader in the field of clinically proven, innovative medical equipment for home health monitoring and treatment.
Aiming to realize its vision "Going for Zero, Preventive Care for the Health of Society", the company develops products and services for cardiovascular condition management, remote patient monitoring , respiratory care, and pain therapy devices. These help healthcare professionals and patients to reduce cerebro-cardiovascular events, aggravation of respiratory diseases and restrictions due to chronic pain.
With well over 300 million units sold globally, OMRON provides the world's most recommended blood pressure monitors by healthcare professionals. Throughout its history, OMRON Healthcare has been striving to improve lives and contribute to a better society by developing innovations that help people prevent, treat, and manage their medical conditions and provides products and services in over 110 countries.
OMRON Healthcare Group is headquartered in Kyoto, Japan.