Design Story #02
Design Story: WheezeScan
WheezeScan – a wheeze detector
Asthma Diary – a mobile app for smartphones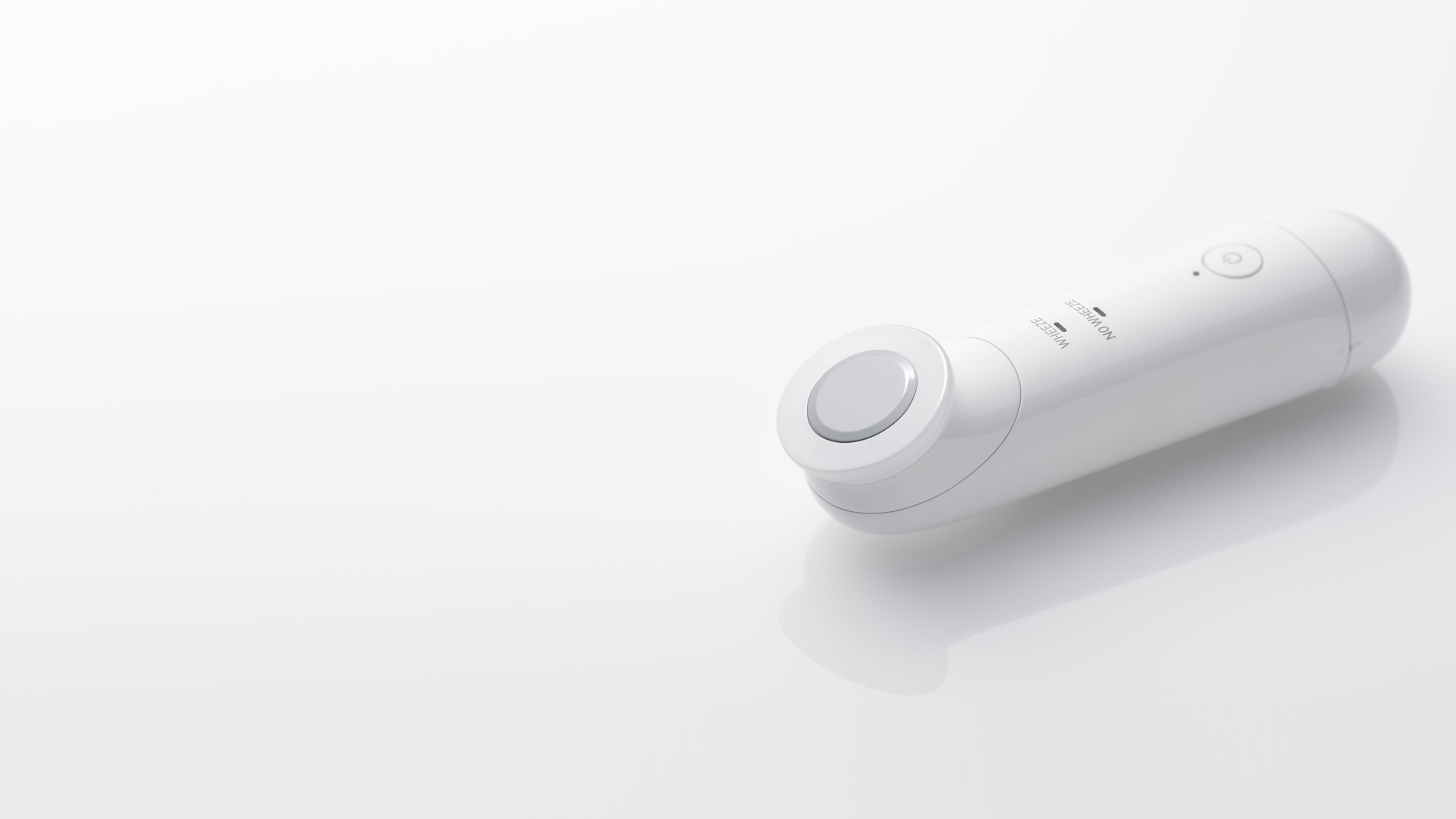 Design Story #02
Design Story: WheezeScan
WheezeScan – a wheeze detector
Asthma Diary – a mobile app for smartphones
To support the prevention of asthma and to help as many children patients as we can
Our design philosophy, Omron Healthcare: Design for the Heart to Look Forward, guides the development of every product and service. When it comes to asthma, our goal is to help patients achieve Zero Asthma Attacks, with the help of our WheezeScan and Asthma Diary innovations.
How did we design the WheezeScan wheeze detector and the Asthma Diary mobile app? We spoke with Kosuke Inoue, in charge of product design of WheezeScan, and Miyuki Kimura and Takahiro Hamaguchi, in charge of product planning and user interface (UI) of Asthma Diary, respectively, about the passion and process that went into the design.
Asthma affects an estimated 339 million people worldwide. That number is growing, especially among children under the age of 5. With children so young, it is crucial for parents to communicate their child's symptoms to their doctor, and provide data about incidents and symptoms, while continuing to care for the child's asthmatic condition.
Asthmatic symptoms are not always present -- this is the nature of the condition. When symptoms are absent, many parents stop providing medication to their child. This often leads to a flareup and recurrent asthma attacks. Stopping treatment may also jeopardize their child's quality of life, because inflammation of the airways still occurs even if there are no clear symptoms.
In response, Omron Healthcare developed WheezeScan, a device to accurately detect a wheezing sound -- the most common symptom of asthma in children under the age of 5. This sound is produced when bronchial tubes narrow, but it can be difficult to detect without a high level of expertise and experience. WheezeScan, which was launched in six European countries in 2020, is the first-ever home device to detect it. When used in combination with a deeper understanding of symptoms via the Asthma Diary smartphone app, parents can accurately and promptly communicate their child's symptoms and data about their condition to their doctor.
WheezeScan and Asthma Diary represent the key components of OMRON Healthcare's approach to achieving the goal of "Zero Asthma Attacks". Read on for more about the design process in our interview with key product developers.
WheezeScan, a device developed to support managing childhood asthma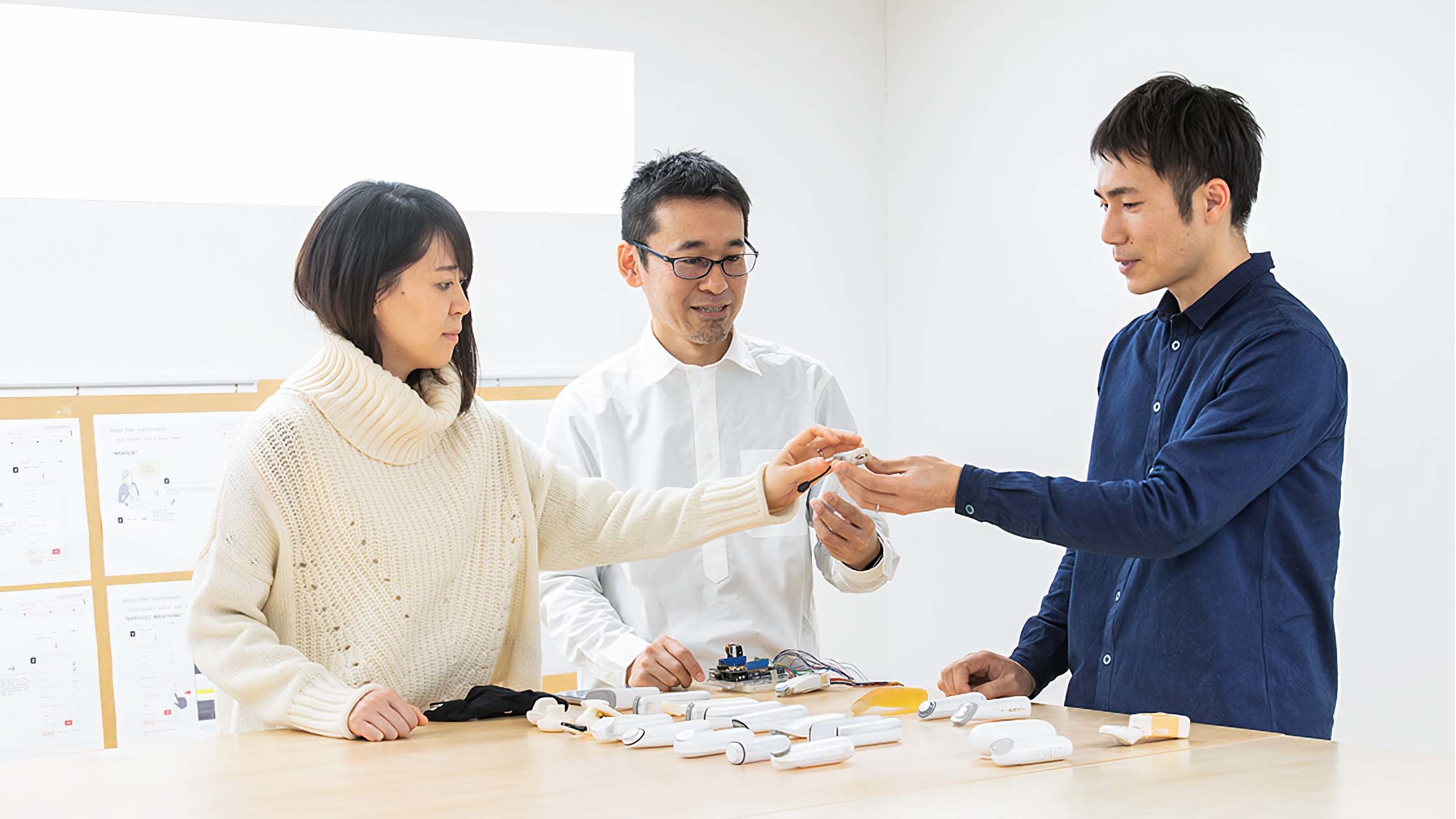 From left to right: Miyuki Kimura, in charge of Asthma Diary product planning, Takahiro Hamaguch, in charge of UI design, and Kosuke Inoue, in charge of the product design of WheezeScan.
What challenges of childhood asthma treatment and symptom management did you face during the development of WheezeScan?
Inoue: Asthma is a respiratory condition in which airways temporarily narrow due to allergens such as dust mites, mould spores and tobacco smoke. One of the challenges of childhood asthma is that it is difficult for children to articulate what they are experiencing. Since an acute and severe asthma attack may require emergency hospital admission, the condition causes stress for the families of patients.
In a user survey a parent commented, "even during a one-hour flight with our asthmatic child from Kansai to Hokkaido, we were not able to be relaxed." In another case, parents secretly followed their child's school trip and booked the nearest hotel to be on hand in case of an acute attack.
What type of insights did you discover in the global survey?
Inoue: When I was in Brazil, I met a boy who said he wished to be a professional footballer. During practice, his mother had helped him use an inhaler as he had an asthmatic condition. There are many children who are confronted with asthma and at the same time, they are chasing their dreams. While travelling around the world and conducting surveys, I gained a strong desire to enable as many people as possible to do what they wish in their daily lives.
What initiatives has Omron Healthcare implemented for asthma patients?
Inoue: Omron Healthcare has developed nebulizers for over 20 years. We have conducted surveys of patients in Asia, North and South America and some European countries. We have also examined solutions, interviewed doctors, and explored current support available for asthma prevention and management.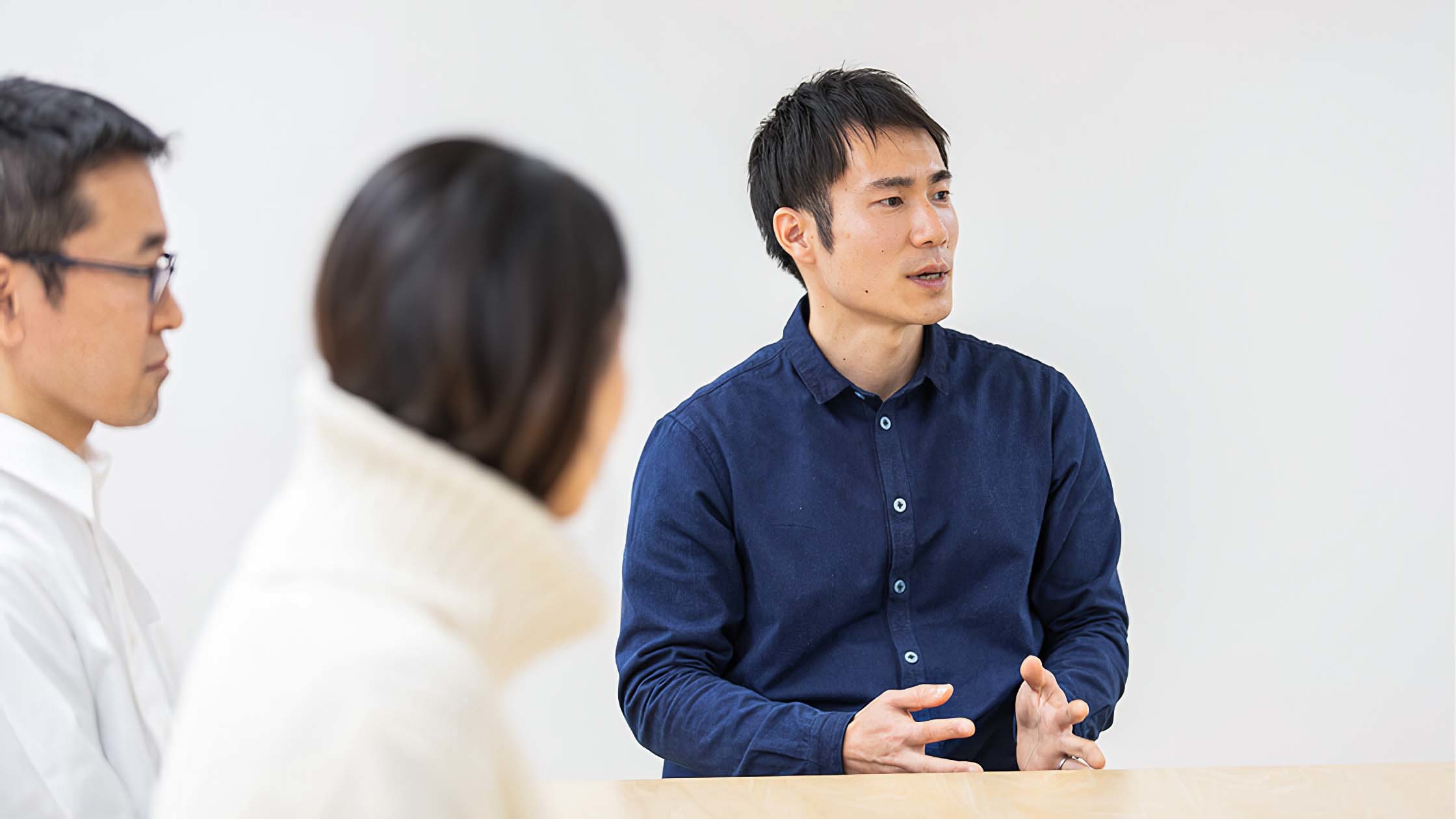 His team conducted patient surveys in Asia, North and South America and Europe and explored how to deal with managing asthma, and repeated interviews with doctors in each area.
In order to prevent an asthma attack, it is important to control the inflammation of airways. However, some parents stop providing medication to their child when there are no symptoms because they prefer giving as little medication to their child as possible. This does, however, risk a severe attack, and may lead to an emergency hospital admission. If the symptoms persist, they may exacerbate or prolong the condition.
This is why we started developing a sensing technology capable of detecting a faint wheezing sound in the lungs caused by an airway inflammation. When parents can recognise preliminary symptoms of an asthma attack and can understand the importance of adherence to prescribed medication, they can consult their doctors at the right time. Since asthma treatment may last for years, it is necessary to keep track of wheeze episodes. Asthma Diary for mobile devices is compatible with WheezeScan, which helps parents communicate their child's symptoms correctly to their doctor.
Value proposition of WheezeScan and the mobile phone app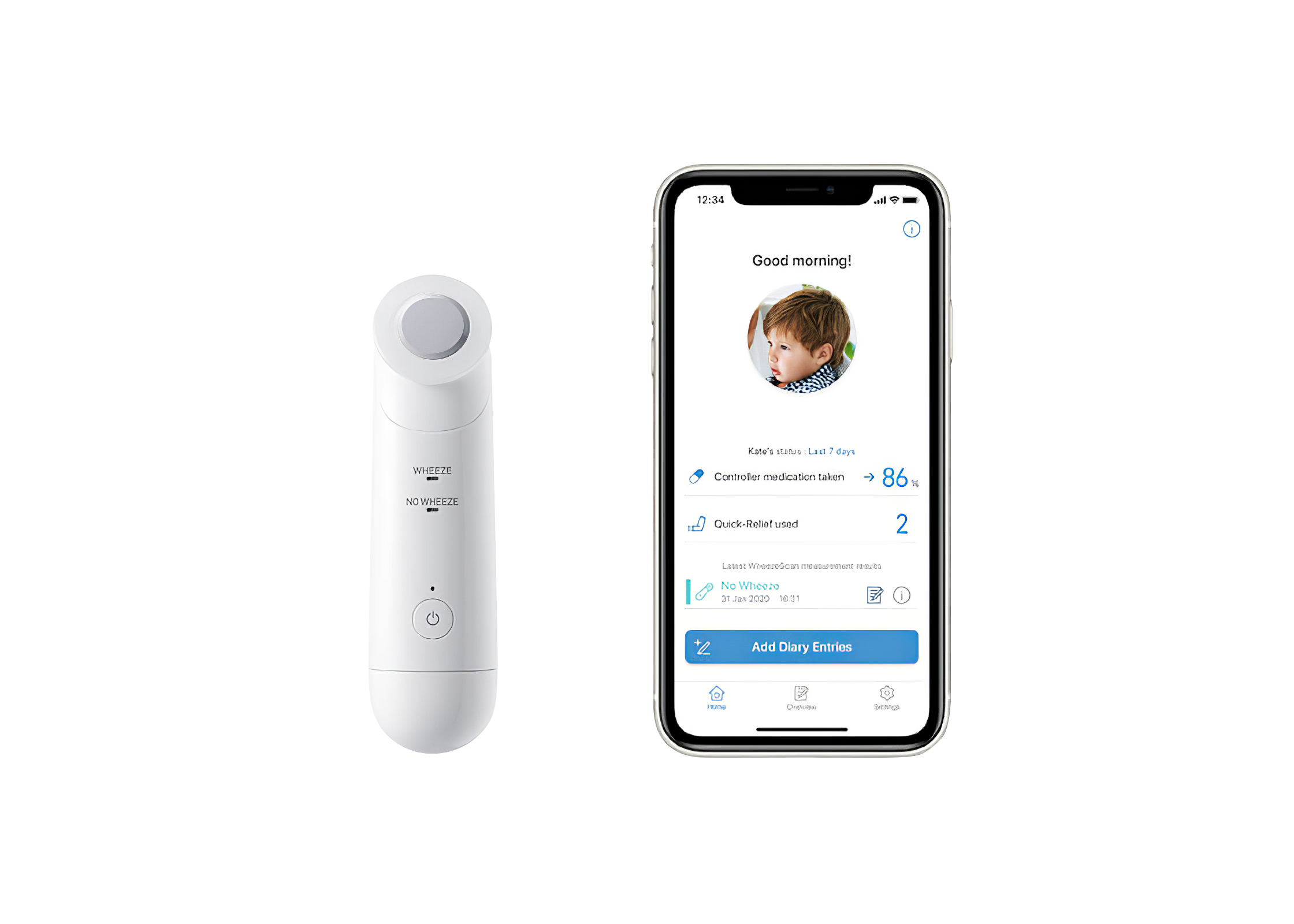 WheezeScan and Asthma Diary, a mobile phone app
WheezeScan and Asthma Diary: Purpose and use
Inoue: It takes less than 30 seconds to measure the wheezing sound with WheezeScan and determine the presence or absence of wheezing. When it detects no wheezing sound, a red light turns on (No wheeze). Data is transmitted automatically to a paired mobile phone via Bluetooth and is recorded on Asthma Diary.
Kimura: When you use WheezeScan in the morning and evening when asthmatic symptoms are most likely, or while away from home, you can check for signs of an asthma attack. This achieves our aim for patients to take medications correctly. Asthma Diary shows the big picture with a daily log and a history to show the status over time. At the same time, the app also collects medication history data, helping patients manage asthma care.
Communicating children's symptoms to a doctor, supported by data, is an advantage in treatment and management. While there are already many paper-based asthma diaries, we wished to develop a tool to make it easier for patientsto maintain daily records.
Inoue: In order to achieve optimal asthma management, patients need to accurately share a wide variety of information including symptoms, medication records and the use of a child's nebulizer with their doctor. I think one of the roles of the app is to compile this crucial information.
Design of WheezeScan and Asthma Diary: inspired by a user-first approach
How did the WheezeScan product design process work?
Inoue: The key to detecting a wheezing sound correctly is to place a device in the right place. In our initial survey, we studied parents' behaviours and reactions when they are asked "Please place a device on your child's chest for 30 seconds". The survey results gave us many insights and helped us to consider how a measurement with WheezeScan is carried out at home.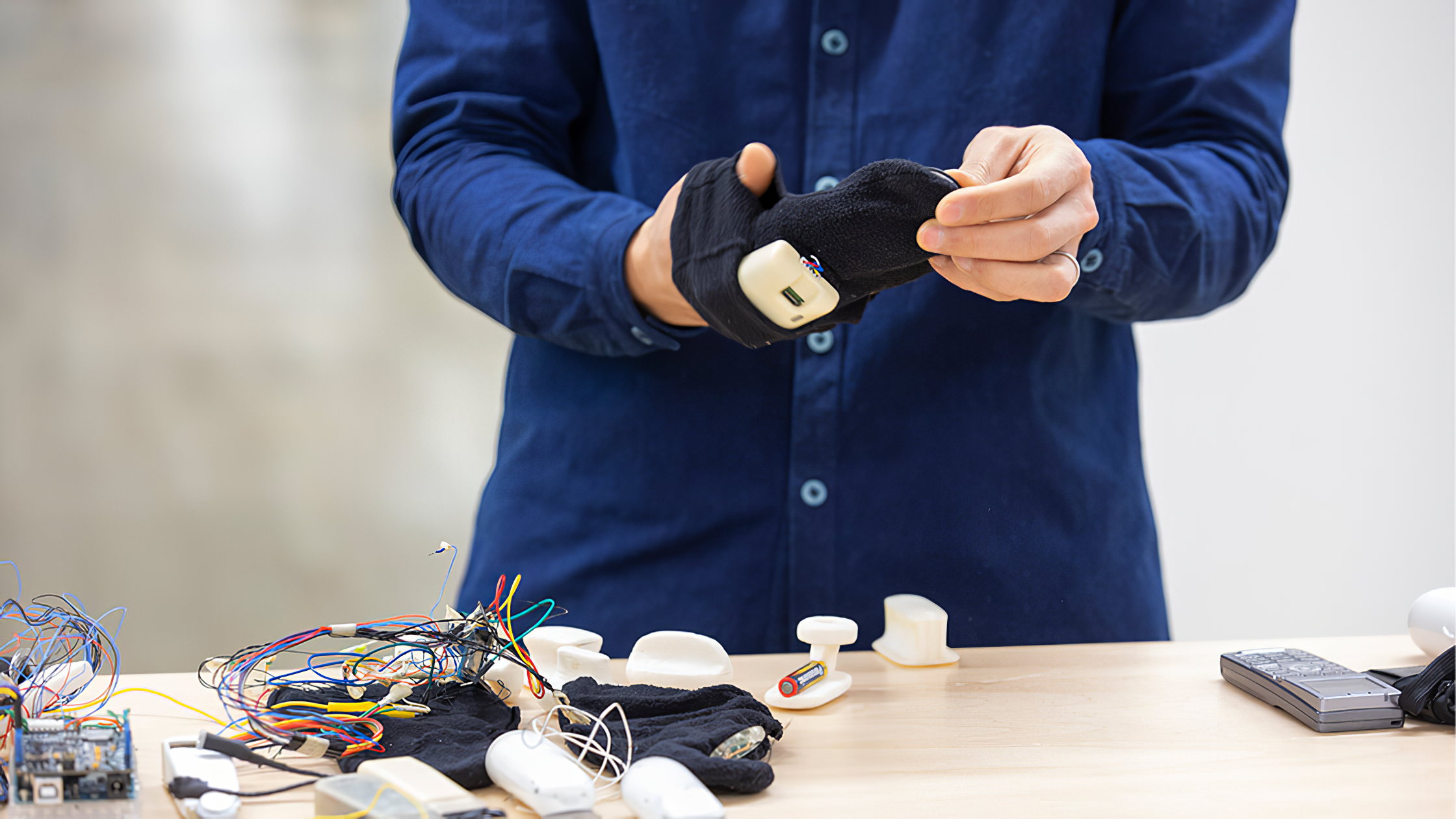 The prototype development process started by observing user behaviors
Observations taught us that parents often hold their child in one hand and place a device relying only on a sense of their hands. When a child feels uncomfortable, they often cry hard or throw tantrums. Our very first prototype was a glove-type device with a sensor so that, we believed, it would allow parents to place a device at the right spot.
Based on the initial prototype, we explored different shapes to enable parents to find the right spot to make a detection, and studied a timing design to realize the correct usage of a device with the help of light and sound. The next prototype was a small device that fits within the palm of the hand and can be pinched with the fingertips. Since we believed the key should be the suitability to a palm, we repeatedly fabricated the rough drawings into shapes with 3D printers and explored the best textures and sensing methods.
Why did you prioritize the feel and sensing part of the device, instead of the aesthetic appearance?
Inoue: We understand the importance of the appearance. However, a correct reading is the principal aim of this product. The role of the design team was to fill the gap between a high level of sensing technology developed by the R&D team and usability. We prioritized the shape for correct detection, and the design to lead users to the correct spot.
In order to help people use the device correctly from the initial setting to detection and measurement, we needed to determine the user behaviours and break down the necessary displays and interface activities. As what we pursued was often subjective, we worked closely with R&D by offering rough programming or electronic work, and repeated trial and error in producing working samples. At the same time, we carried out user surveys and found out that when a display to show a detection result is incorporated in a device, users often stopped to check a result. As a result, the sensing part pulled away from the body. Therefore, we only fitted a light on the housing of a device.
After a number of prototypes and user tests, the shape, size and material of the device was formulated
From what age can WheezeScan be used?
Inoue: It can be used for children from four months old. When a baby starts crying, the sound drowns out the wheezing sound. Our focus was on maintaining a high level of accuracy while keeping babies calm. If a sensor is too cold it may surprise a baby and make it cry. So we chose silicone instead of metal for the sensor, and made the part larger than on a traditional device to increase the level of stability. When a sensor is stable, it gives babies a sense of comfort and allows them to be relaxed while being scanned.
As user tests showed that there were many parents who hold their babies from behind, we equipped the device with sounds to alert parents of the start and the end of the scan. The level and the type of the sound was adjusted based on our studies. The level of LED brightness was also discussed, and it replicates breathing cycles.
WheezeScan developed based on hundreds of prototypes and a hard case (image: right) which can be carried in a bag
How was the Asthma Diary app designed?
Kimura: Through the surveys, we found out that there was so much to do to manage paediatric asthma that they often became a burden to patients and their families. We wanted to make it easier for them to use the device and an app to help them to carry out the asthma care. It was a challenge for me to narrow down the necessary functions to make it as simple as it could be.
During the development process we came up with a lot of ideas such as diet management, sleep management, exercise logs and even fever management. However, if too much information needs to be recorded, it may prevent people from using it. Every time we encountered this type of difficulty, we discussed the issue from the UX-first perspective, so that we would be reminded of the main aim of the app.
Hamaguchi: As you said, we always tried to prioritize the initial concept of Asthma Diary: "Simple Tracking, Concise Reporting".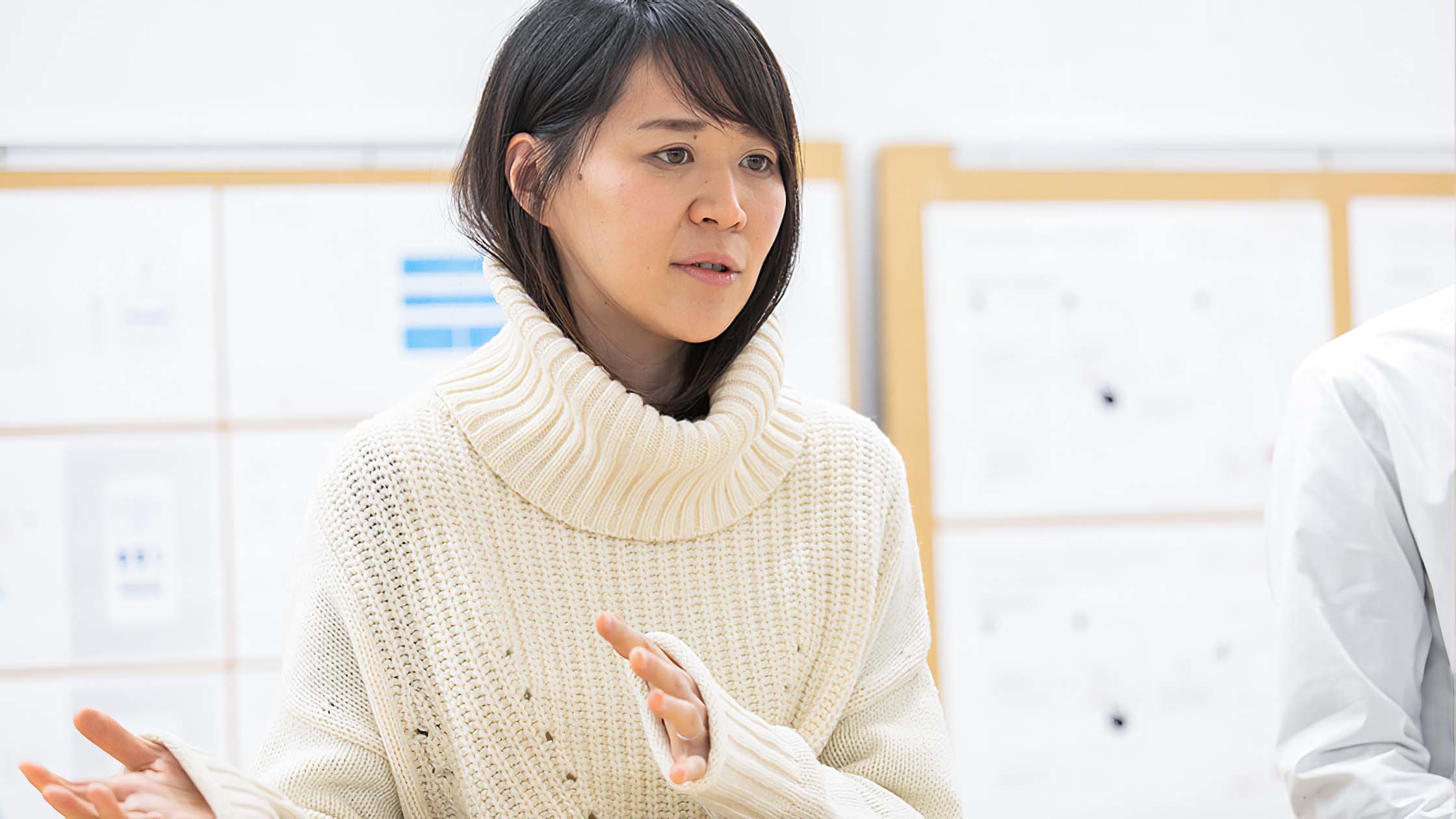 Focusing on user-friendliness and continuous usage, she tried to make the app functions as simple as possible
Kimura: Again, our focus was on the continuity of app usage and easy asthma management without any effort. In order to reduce complexity, we narrowed down the functions and only kept the ones that are required by the official asthma care guidelines. Even though there are some patients who are prescribed more than 2 medications by doctors, the app asks simply whether they take medicine or not.
Not only are the app functions simple, the user interface (UI) is simple as well. We want users to consider this app a great support for their child's asthmatic care. We have included a function to show the name and a photo of their child on the display. When a user opens the app on the phone, a message of "hello, XX (user's name)!" pops up and explains how many consecutive days they have used the app, with the aim of encouraging users to use it regularly.
Pictured, from left to right: Asthma Diary home screen, daily medication and symptom log, and a screen in the case of an asthma attack
What's the concept behind the app's user interface?
Hamaguchi: OMRON Healthcare has a set of 5 design philosophies which are: Honest, Precise, Intuitive, Comforting and Appropriate. When designing graphic images for Asthma Diary and the user experience, we highlighted the balance of rational & emotional. This message represents the "Precise" and "Comforting" elements of the mission and overarching design philosophy as well.
During the WheezeScan and Asthma Diary development process, one of the breakthroughs for us was to realize how wide a variety of potential users there were, who commit to the care of a child who suffers from asthma. It's not only a child and thier parents, but doctors and caregivers who must be involved as well. Therefore, the design must be suitable for every potential participant involved in the care of the child. In terms of "Rationality", the medical level of trustworthiness and the accuracy of the sensing technology should be highlighted. We needed to balance scientific evidence and emotional approaches to understand the child asthma sufferers, their families and caregivers.
The graphics were designed to have a minimalist structure to represent "clear" "simple" and "calm" design. Here, clarity adds a sense of accuracy to a user=friendly interface. When a screen of the app is simple and calm, it conveys a sense of trust that encourages parents to continue with their child's asthma care. As Kimura explained earlier, I believe we were able to produce an app with a high level of accuracy and a sense of friendliness.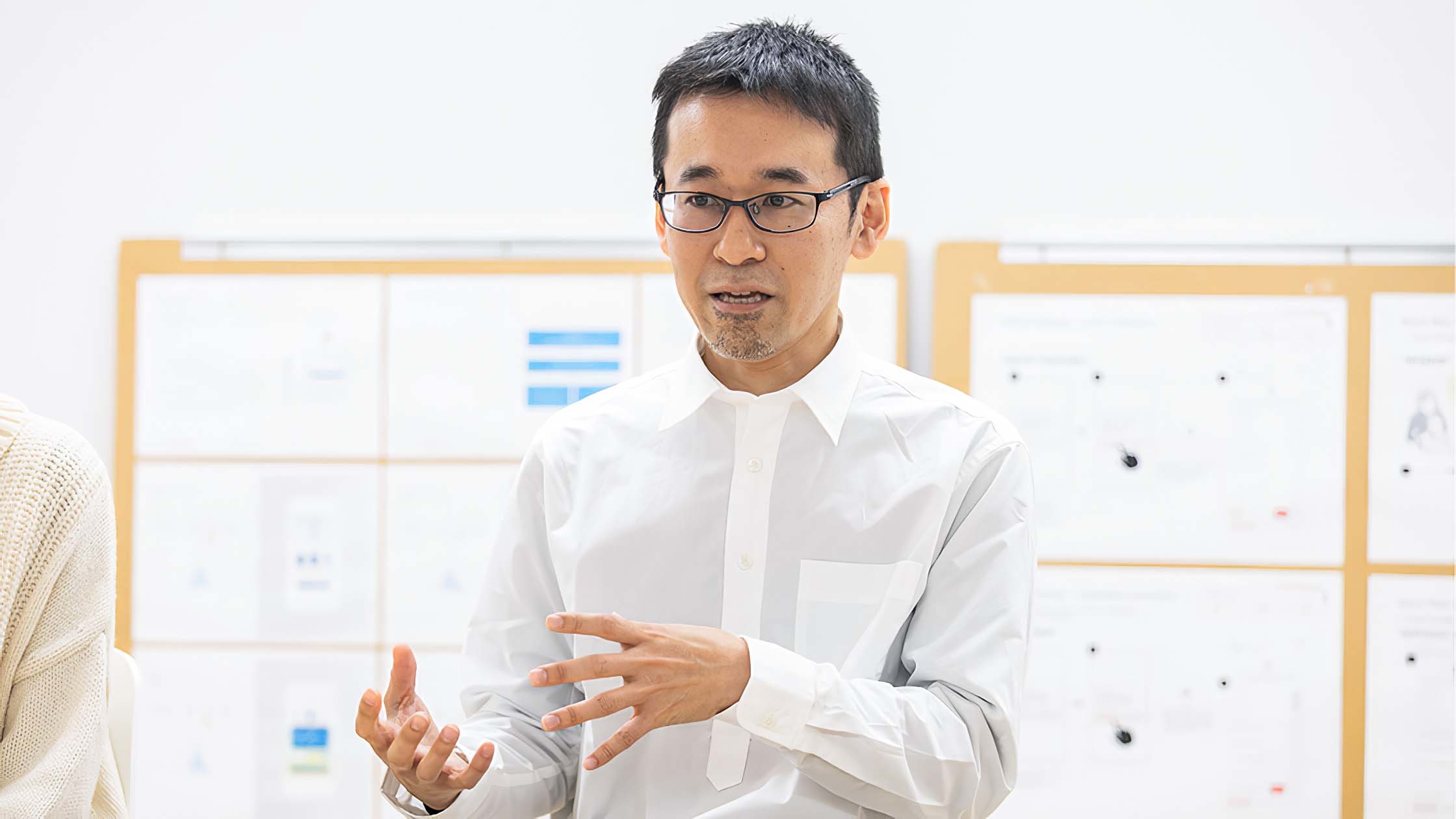 User-friendly, to fit into patients' daily lives and trustworthy as medical device. Contradictory values coexist in the UI.
What was the most important consideration in the patient-centred approach?
Kimura: We set a reminder function that allows the app to contact a user even while a mobile phone is locked. Users can input a medication log on the reminder screen without opening the app. During discussions within the Japanese team, we thought that an input form should be displayed as soon as the app is opened so that users are able to save time and effort. However, when we expanded the discussion to global team members, we realized that we need a more efficient way to summarise history and data. We repeated discussions to determine the best solutions from a user's perspective.
Hamaguchi: The ultimate goal of the product is to help users to continue their long-term asthma care. When we had produced an app with only the necessary functions, we were able to convince ourselves there was finally a light at the end of the tunnel.
Inoue: When WheezeScan was successfully synced with the app, we could feel confident of our achievement to foster communication between patients and doctors.
Connecting medical device technology and user needs
What difficulties did you encounter in designing the home medical device?
Inoue: One of the roles of the design team is to explore the way to detect a wheeze in a child not only from a technical point of view, but from other perspectives. We tried to figure out the wishes of users, contemplate the potential ways to fill in the gap between these wishes and what was realistic, and to then define the direction of the project. If any of the above processes is missed, the design of the product would not satisfy its original purpose even though it is technically efficient.
We often say, "listen to the voice of users". However, users' voices are not always the ultimate answer. What we need to do is to digest the context of those opinions and deliver the best experience to users. We cannot make it happen only within the design team; we need to collaborate with other members.
The WheezeScan project started by asking ourselves why this device is needed and how we can deliver value to users, based on the global user surveys. To do so, we needed to reset the mindset, and pursue the project by all members pulling in the same direction.
Hamaguchi: OMRON has contributed to users' daily habit of monitoring their blood pressure at home. I believe we need to shape new medical and healthcare methods tailored to each user and their lives. WheezeScan and Asthma Diary will be an initial step to make this happen. When we design products and services, we need to highlight useful and unique functionality to encourage each user to achieve a healthy life with our new technologies.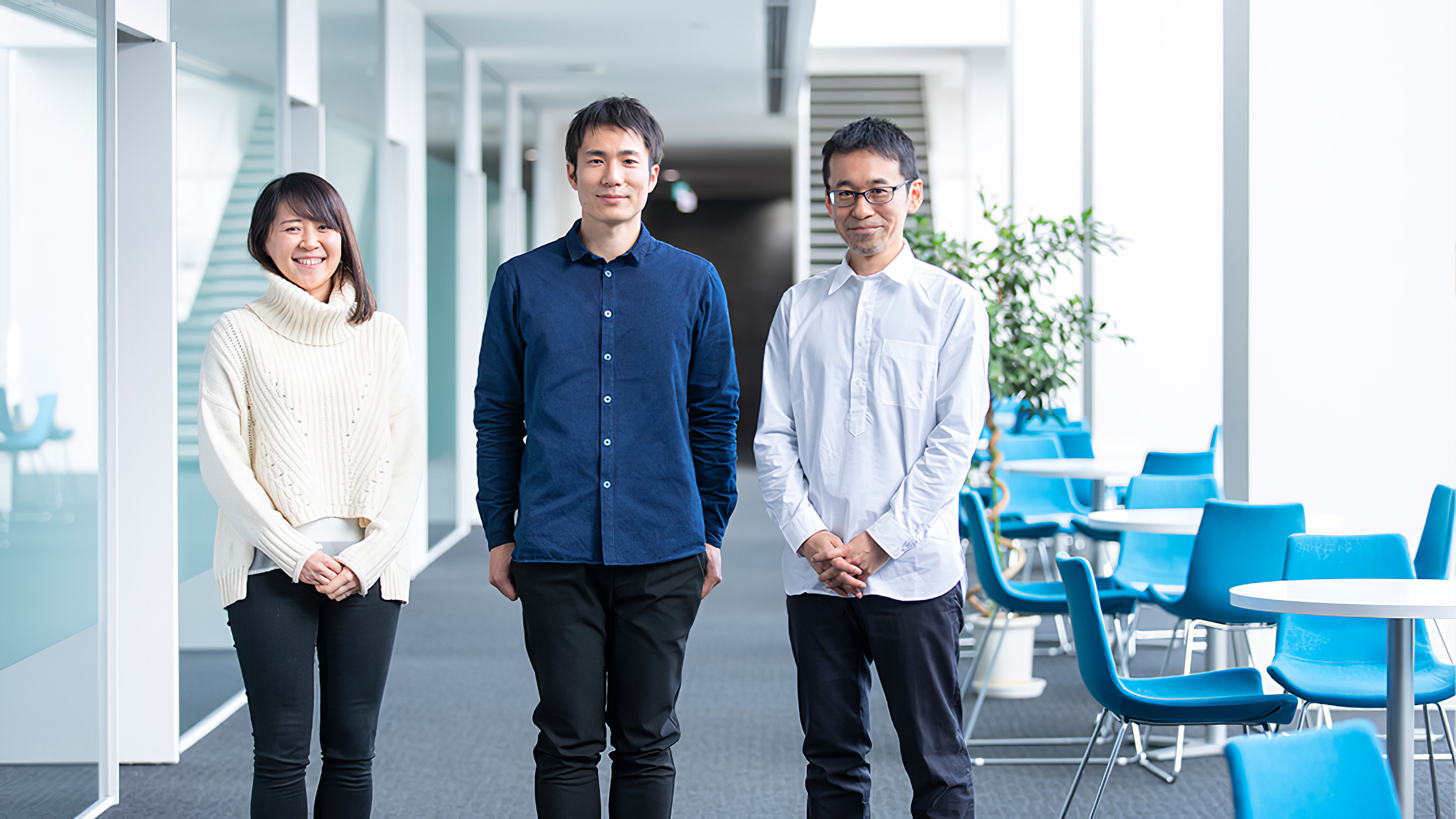 WheezeScan and Asthma Diary were launched in some European countries and awarded GOOD DESIGN Best 100 in 2020 in Japan. Slowly but surely, we have reached our goal.
What's next, now that you have the experience of designing Asthma Diary?
Kimura: Asthma Diary is available in 6 countries in Europe, and received favourable reviews, particularly from the German Respiratory Society. My next goal is to communicate the values of the device on a global scale.
Inoue: As WheezeScan is the very first device of its type, it may have the potential to grow in an unexpected way. In order to quickly respond to the feedback from users, we need to think about our next steps, and at the same time, keep ourselves up to date.
Hamaguchi: I appreciate being a part of the team and contributing to the development of the very first such device in the world. I think it provides better ways to improve the condition of patients and their families, and is an option to help them to be more positive in their asthma care.
Kimura: An asthma attack is a real health risk for patients, and may result in a financial burden on their families. If a device helps maintain an attack-free life, it may help reduce physical and financial hardship. At the same time, it helps medical establishments as they are then able to spend their time and efforts on patients with more severe conditions. This is the vision of Asthma Attack Zero – our goal is to tackle social challenges and provide solutions for better quality of life.
Thank you for subscribing!