CES 2023/ theme 03
Remote Patient Monitoring for better heart health
CES 2023/ theme 03
Remote Patient Monitoring for better heart health
Innovation in Remote Patient Monitoring Services
Remote Patient Monitoring enables early detection and more effective treatment
Traditionally, physicians have relied on patients' vital data monitored in a doctor's office to determine treatment for hypertension and cardiovascular diseases. However, blood pressure fluctuates throughout the day, making it difficult to fully understand a patient's condition and assess the effectiveness of medication based on data collected only during office visits. To address this challenge, OMRON Healthcare has committed to developing a Remote Patient Monitoring (RPM) service that allows patients to easily and efficiently share their home vital data with physicians. This enables early detection and more effective treatment of disease.
In the United Kingdom, approximately 30% of adults have hypertension. The National Health Service (NHS) has set a target of 80% blood pressure control in the country by 2030. However, the latest control rate is only 60%.
In the UK health system, patients see their "family doctor," except for emergencies. This requires physicians to see many patients in different situations, from initial consultation to long-term treatment.
OMRON Healthcare will launch "Viso" in early 2023, a service to enable physicians to centrally manage multiple vital data such as blood pressure and weight.
High blood pressure affects more than 30% of adults in the UK. As hypertension often carries the risks of comorbidity such as obesity and atrial fibrillation, physicians must manage multiple vital data including blood pressure, body weight, SPO2 and blood glucose level for the appropriate treatment. In the UK, patients can register for a General Practitioner (GP). As the number of patients increases, the workload of each GP is also on the rise. As a result, it is getting more difficult for GPs to allocate enough time to examine data of each patient.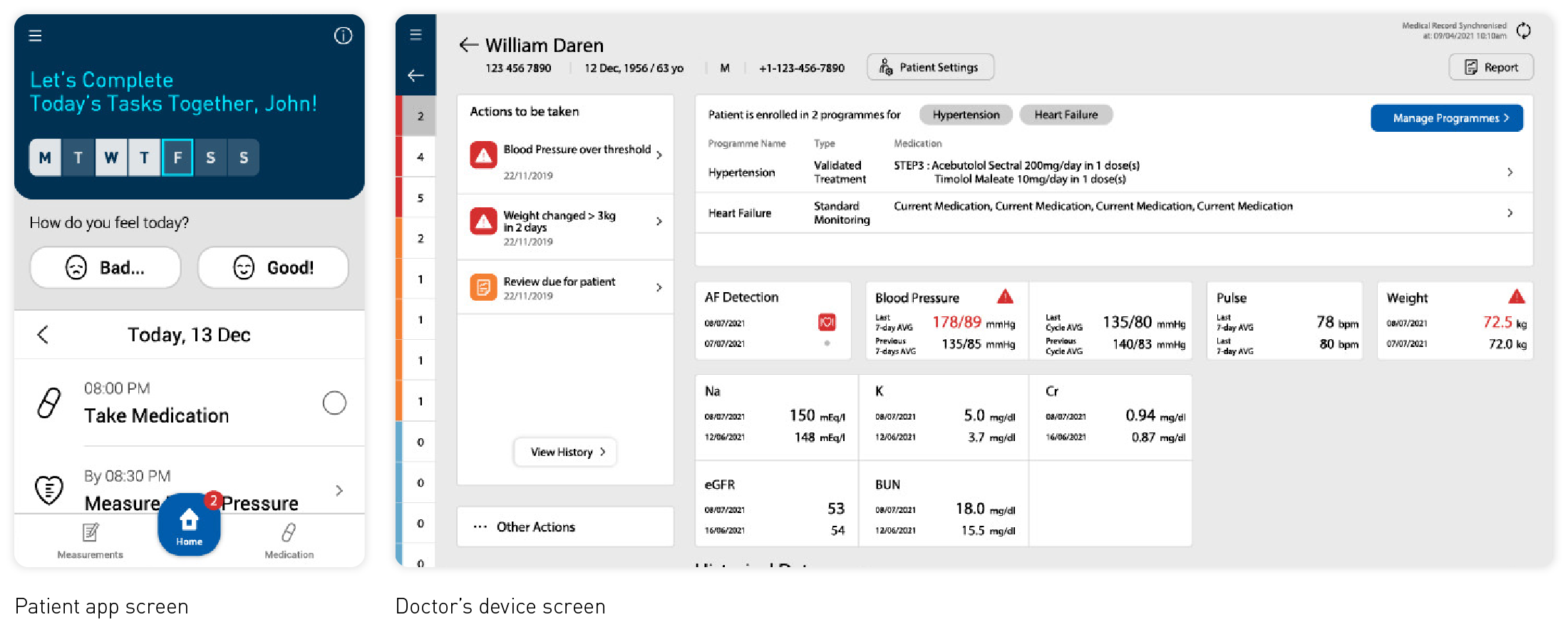 To help solve this, OMRON Healthcare will launch Viso, a remote patient monitoring service to manage multiple vital data in a single platform. Viso enables patients to share their vital data measured at home including blood pressure, body weight and pulse with their GPs. Viso analyzes blood pressure monitored remotely, generates a medication plan tailored to the patient, and detects the signs of event risks. This reduces the workload for GPs, and improves diagnosis and treatment quality. It will enable early detection and early intervention of chronic diseases.
Viso - A Remote Patient Monitoring for multidisease management in the UK
Viso covers multiple diseases and their treatments: a service that targets GPs, enabling them to see not only hypertensive patients but the patients with chronic diseases.
Viso is a service that allows patients with chronic diseases such as hypertension to share vital data measured at home with their physicians, and to check their condition in a timely manner through a medical interview program supervised by a medical specialist.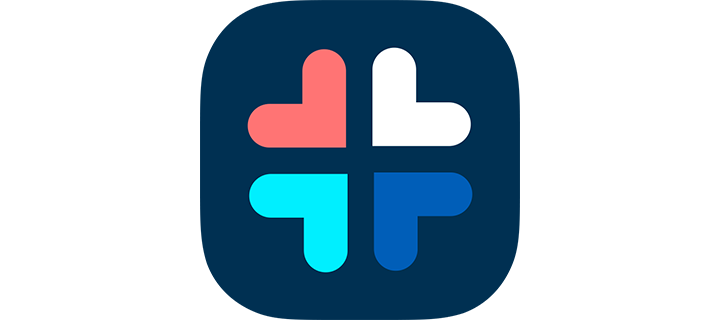 Viso analyzes blood pressure readings and propose a corresponding patient-specific medication plan (3 doses) to the physician. In addition, Viso offers a condition check questionnaire supervised by a medical specialist, to check the patient's condition in detail. Alerts are delivered to physicians according to the responses to support smooth intervention. In addition, the management screen for physicians displays the order of priority of responses based on vital data and questionnaire results, and supports more efficient treatment.
VitalSight - Remote Patient Monitoring in the USA
According to Centers for Disease Control and Prevention (CDC), more than 3.7 million adults in the US have Stage 4 Hypertension, which carries the risk of heart attack and strokes, and they do not have it under control. However, guidelines have been issued to achieve 80% blood pressure control by 2025 in the United States. In order to improve hypertension management, OMRON Healthcare launched VitalSight, a remote patient monitoring system for high blood pressure patients in September 2020.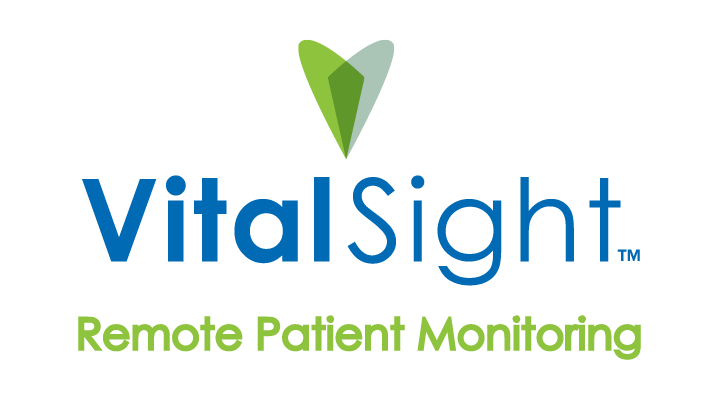 With the VitalSight platform, patients are able to share their blood pressure monitored at home with clinicians. They can monitor the status of their patients through the OMRON Doctor Dashboard and receive automatic notifications if the readings show that a patient requires intervention of any kind. VitalSight can be integrated directly with the clinician's Electronic Medical Record (EMR) system, so that they can track the patients' past records and medication efficacies for better treatments.
Installed in 48 medical facilities and applied to approx. 7,000 patients.
Voice of the service user
Dr Stephanie Lucas MD, Primary Care Doctor says:
"Diseases like high blood pressure are very silent diseases. Many of my patients would go to use the emergency care centers for something else, but then their blood pressure was elevated. When I saw the VitalSight program, what intrigued me is it engages the patient in their own care. You can decrease the number of emergency room visits because you're able to see the results more immediately. The VitalSight program has just really revolutionized the way that I practice medicine."
Proven therapeutic effect following a 3-month survey
A clinical study of approximately 1,600 hypertensive patients validated the treatment efficacy of VitalSight. In the study, patients were assigned to two treatment groups: one using VitalSight and the other without VitalSight. The patients monitored their blood pressure on a regular basis. At 3 months, the study shows the difference in antihypertensive effects. 65.3% of patients in the group of being used VitalSight (N=283) controlled while 48.1% (N=1,069) in the group of without using VitalSight were controlled.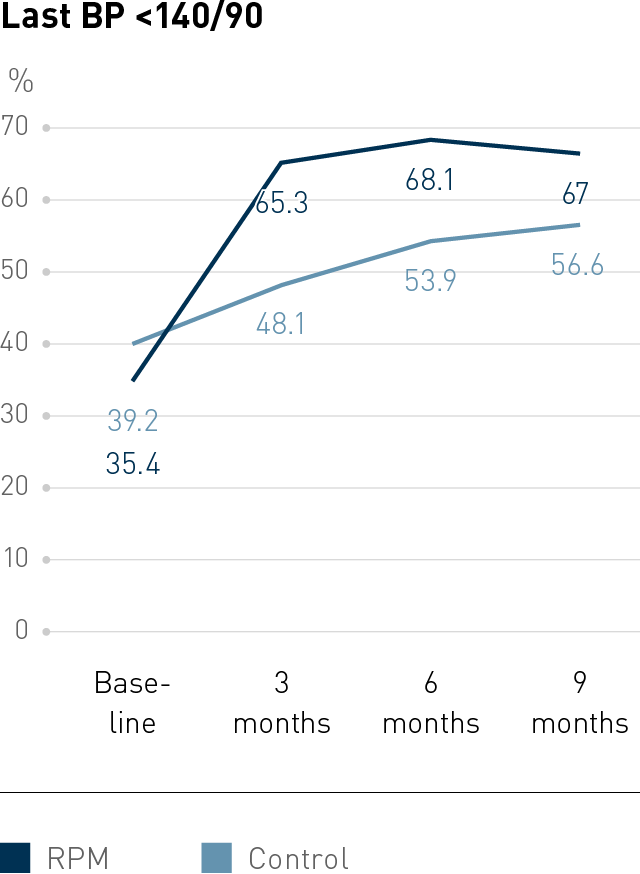 Reduction in treatment costs
201 volunteers between the ages of 35 and 85 with hypertension were asked to join a joint study of the economic benefits of the remote patient monitoring (RPM) service with Highmark, a non-profit healthcare company with more than 4 million insurance contractors.
The study compared hypertension and cardiovascular treatment medical expenses in two different groups: with RPM service (N=187) and without RPM service.
At 6 months, the expenses dropped by an average of 46% in the RPM service group vs control, and the average reduction in cost amounted to $108 per patient per month.

Thank you for subscribing!