CES 2023/ theme 01
Early CVD Detection with BPM & ECG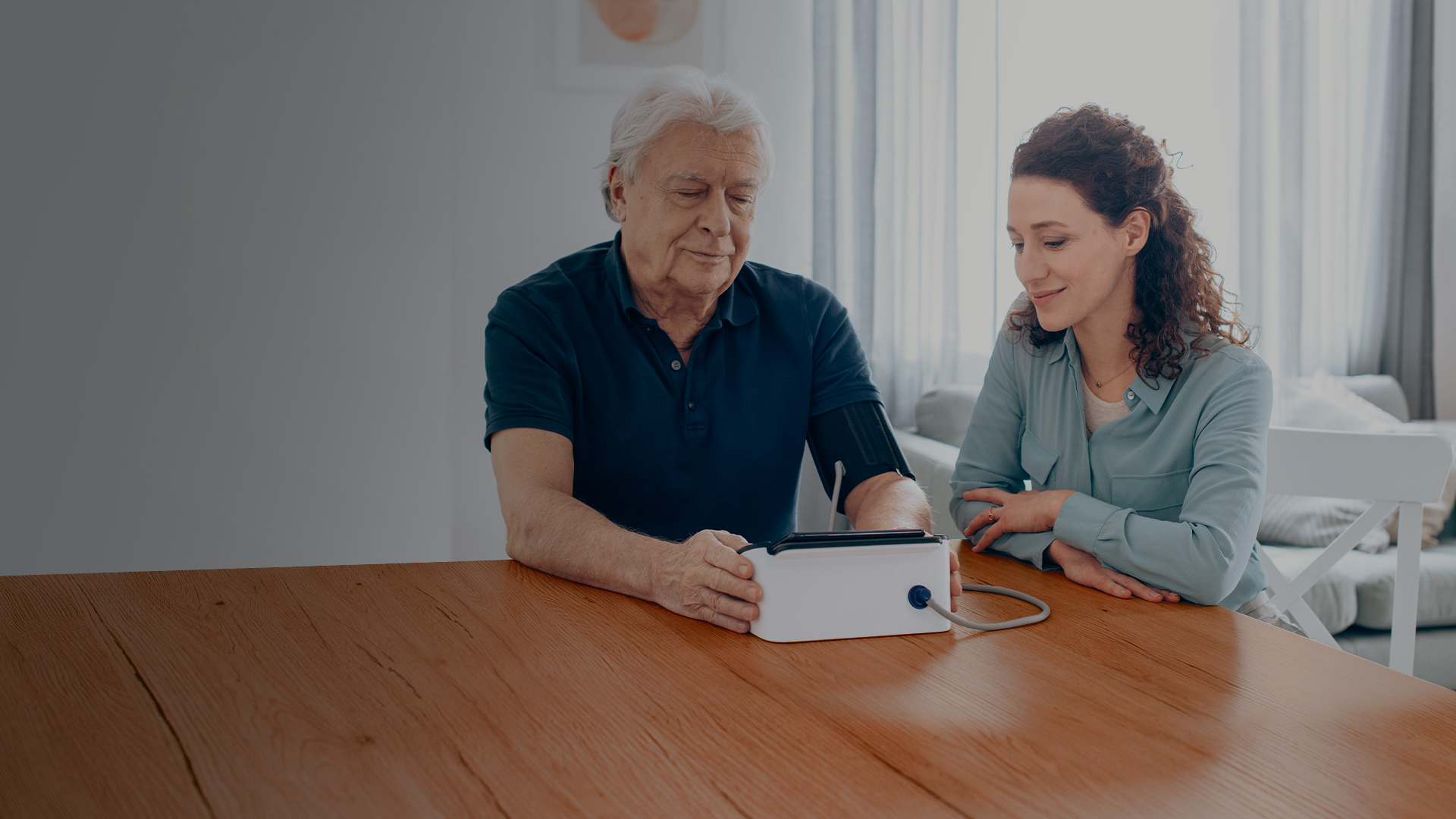 CES 2023/ theme 01
Early CVD Detection with BPM & ECG
Making home ECG (Electrocardiogram) recording devices more accessible with the aim of realizing zero cerebro-cardiovascular events.
Early detection of Atrial fibrillation (Afib) on hypertensive patients
Afib is one of the symptoms of arrhythmia, and it is the main factor in developing heart failure and cardiogenic cerebral infarction. OMRON Healthcare is committed to early detection of Afib, for early intervention and rapid treatment.
10%-20% of patients with hypertension develop Afib. Hypertensive patients over the age of 65 have 3 times the risk of developing Afib compared to normotensive individuals.
A recent clinical study showed a rate of newly detected Afib cases per ECG recording of 0.93%. The detection rate of hypertension with comorbidity of Afib was 1.59%, three times higher than individuals without comorbidity. This result shows that Afib occurs more frequently when patients have lifestyle diseases such as hypertension.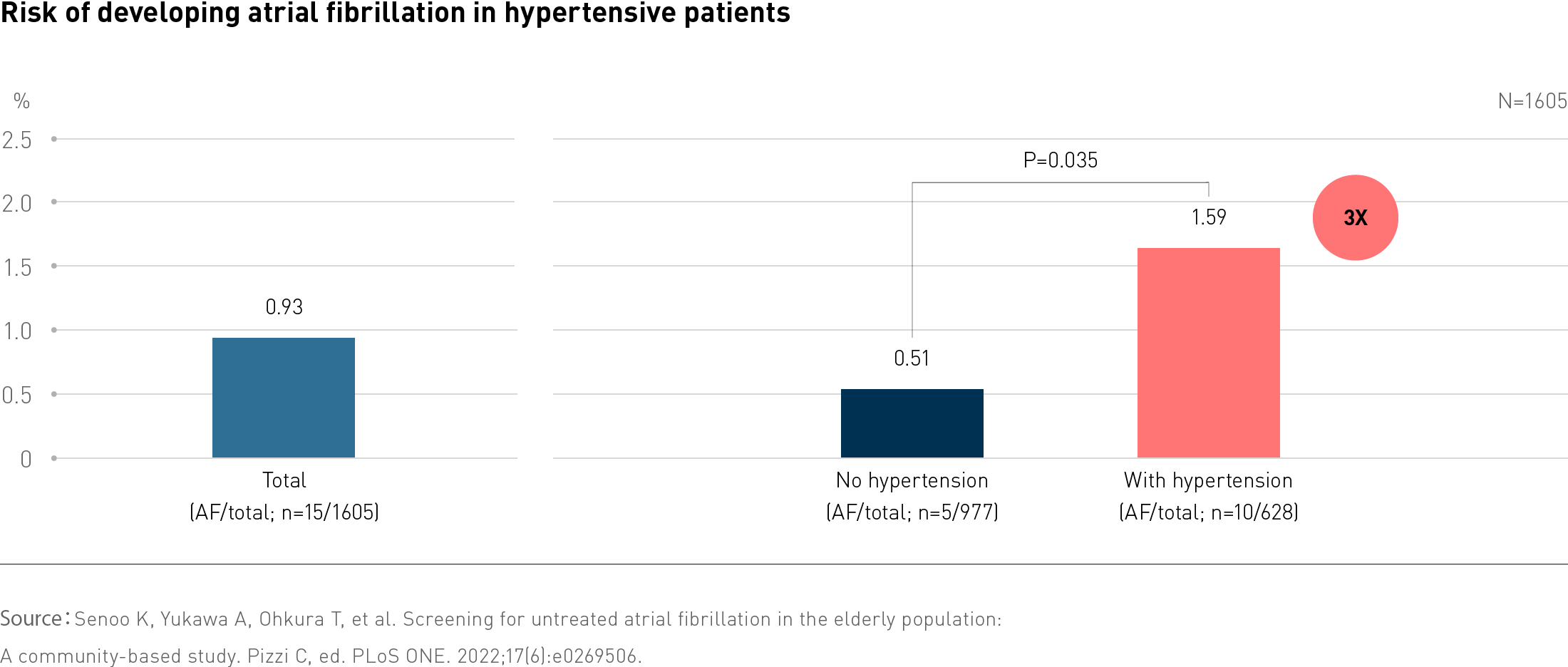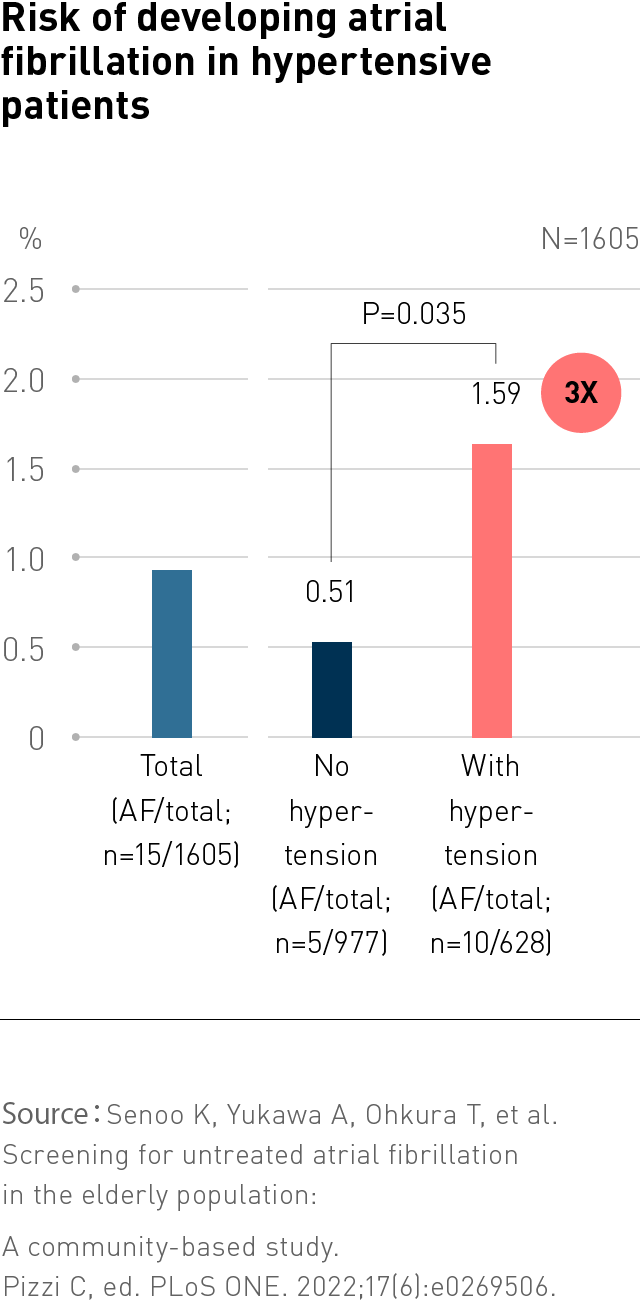 In order to identify risks of Afib and enable prevention, OMRON Healthcare has developed an upper-arm blood pressure monitor with built-in ECG technology that enables users to detect the risk of Afib while monitoring blood pressure.¹
How to use OMRON Complete Upper Arm Blood Pressure Monitor with OMRON Connect App
Wrap the arm cuff on the upper arm, place thumbs on the top electrodes, to measure blood pressure and ECG at the same time. The device detects risk of Afib at an early stage – an important piece of data since Afib symptoms often go unnoticed. The data is transferred to the OMRON connect mobile app.
OMRON connect analyzes the ECG waveform and sends 6 types of notifications to users, including the possibility of Afib. Early detection of Afib enables timely treatment.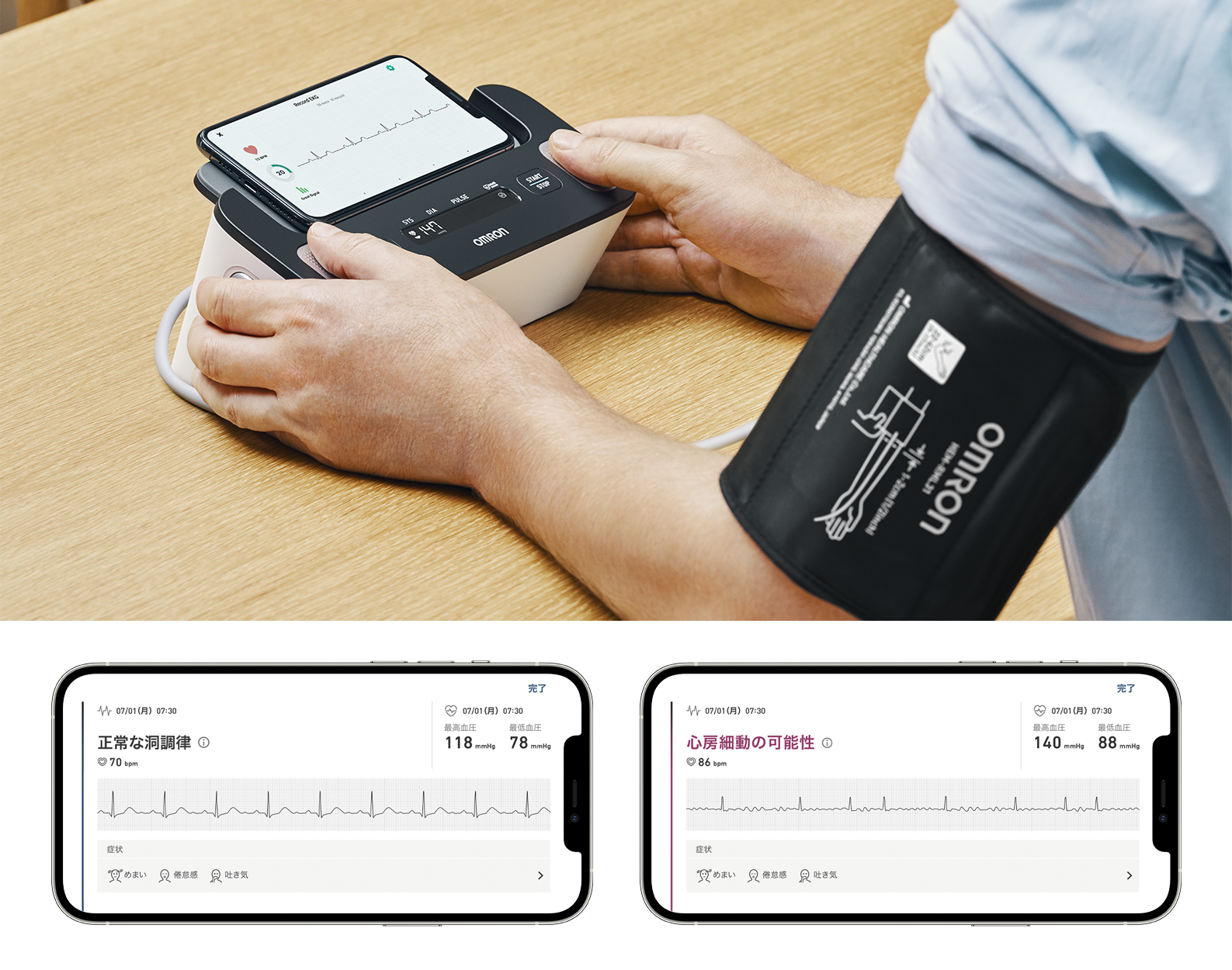 Latest study on the effectivity of ECG reading to detect risks of Afib
Recording ECG at home for two weeks detects 66% of the risks of Afib. Recording 14 days in a row shows a significantly higher detection rate of Afib and other diseases in Afib-risk patients than using 24-hour Holter monitoring, a study shows.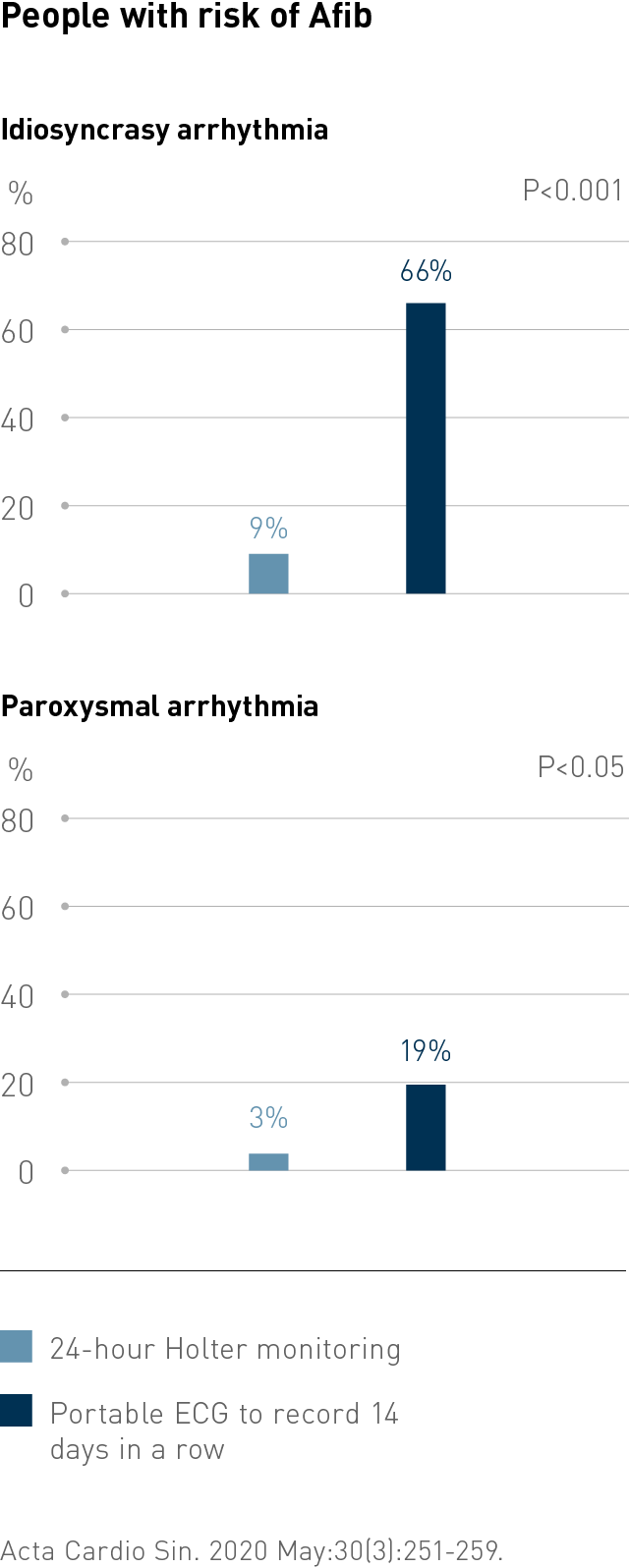 Home ECG helps detect Afib at an early stage for those who have heart health concerns such as palpitations and shortness of breath.
Symptoms of Afib include: palpitations, shortness of breath and difficulty breathing. However, 60% of Afib patients report no subjective symptoms. Even with symptoms, episodes are brief and end quickly, so the disease is often not discovered during a medical examination once or twice a year.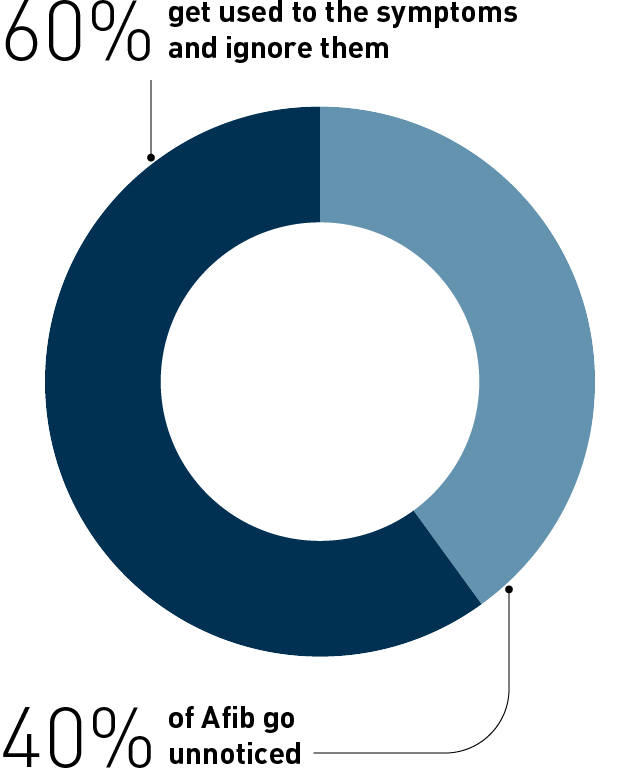 In order to detect Afib and start treatment at an early stage, it is critical to record ECG when experiencing symptoms. For that reason, OMRON Healthcare has developed the portable ECG so users are able to record data whenever symptoms occur.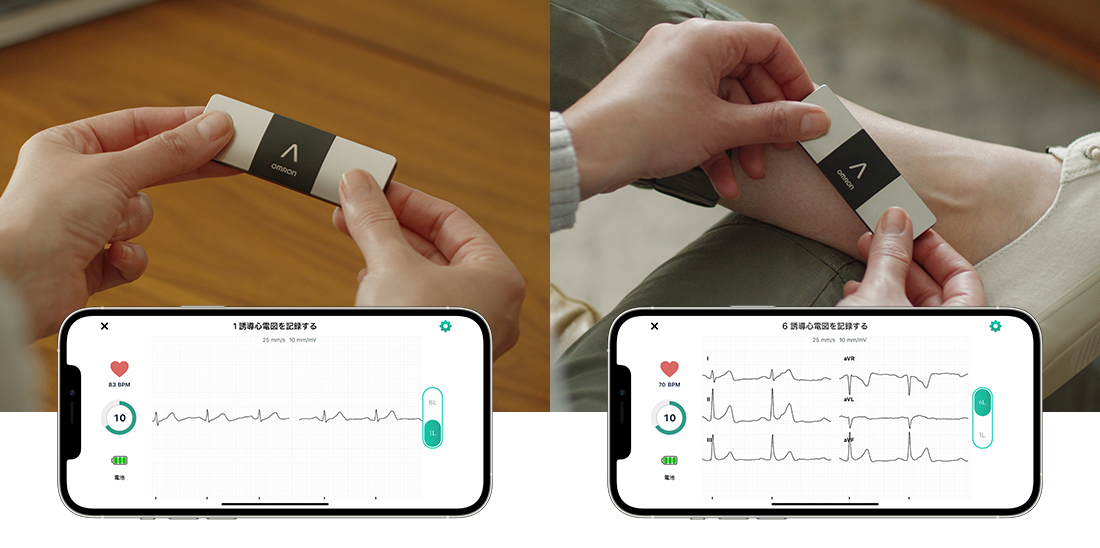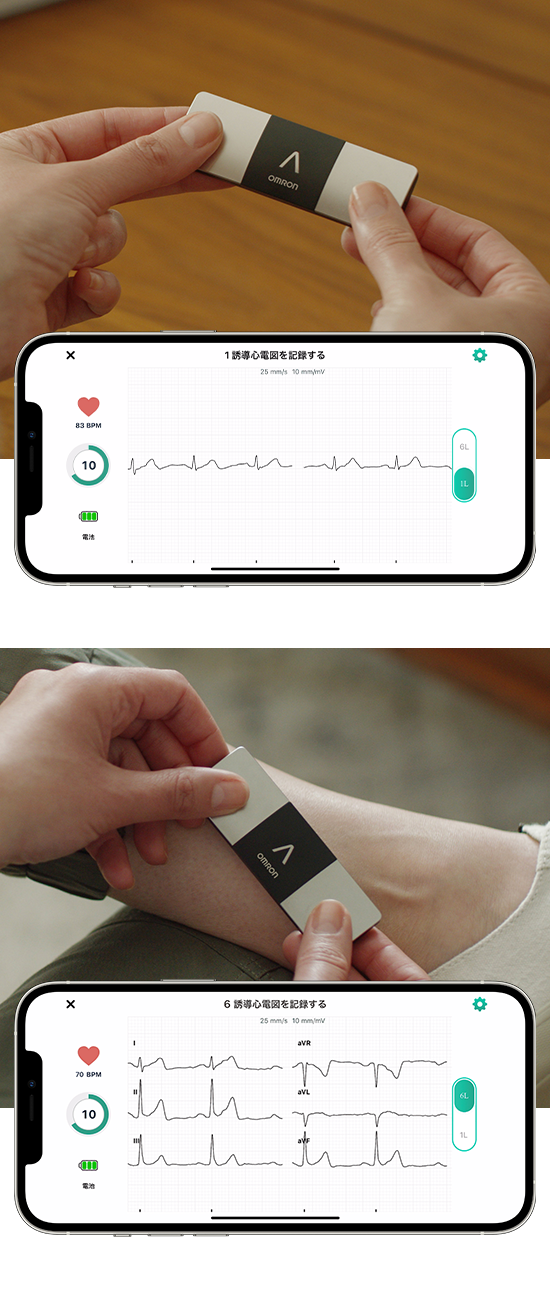 Reading electrocardiogram with the HCG-8060T, Portable ECG
For reading 1-lead ECG, place thumbs and middle fingers on the top electrodes. For 6-lead, there are two electrodes on the top for your fingers or thumbs and one on the bottom to contact the skin of your left leg. Recorded ECG data is transferred to OMRON Connect mobile app that notifies users in 6 different messages including the potential risk of Afib. The data is shared to physicians, who can detect Afib with 1-lead ECG and a wide variety of types of arrhythmia with 6-leads.
News release: Recording ECG data while a user is experiencing a subjective symptom such as arrhythmia: Supporting early detection and early treatment of Afib
The heart's electrical system controls the rate and rhythm of the heartbeat, and supplies the body with the right amount of blood. However, when the electrical system is unbalanced for some reason, there is a status of irregular heartbeat called arrhythmia.
What is Atrial Fibration?
Afib is an irregular heart rhythm (arrhythmia) in the upper chambers of the heart (the two atria).
There are two types of arrhythmia: tachycardia (100 times and over/minute) and bradycardia (60 times and less/minute). Afib is a symptom of tachyarrhythmia.
Afib patients' risk of brain stroke is 5 times higher than normal
The rhythm of the heart is typically controlled by the sinus node. However, when electrical impulse is generated independently of the sinus node, the heart quivers irregularly and it leads to Afib. The main symptoms of Afib are: palpitation, tightness in the chest, difficulty breathing and dizziness.
Afib leads to serious medical complications and poses high risks of brain stroke. One study shows that Afib patients present the risk of brain stroke that is 5 times higher than normal. Early detection and early treatment intervention help decrease the risks.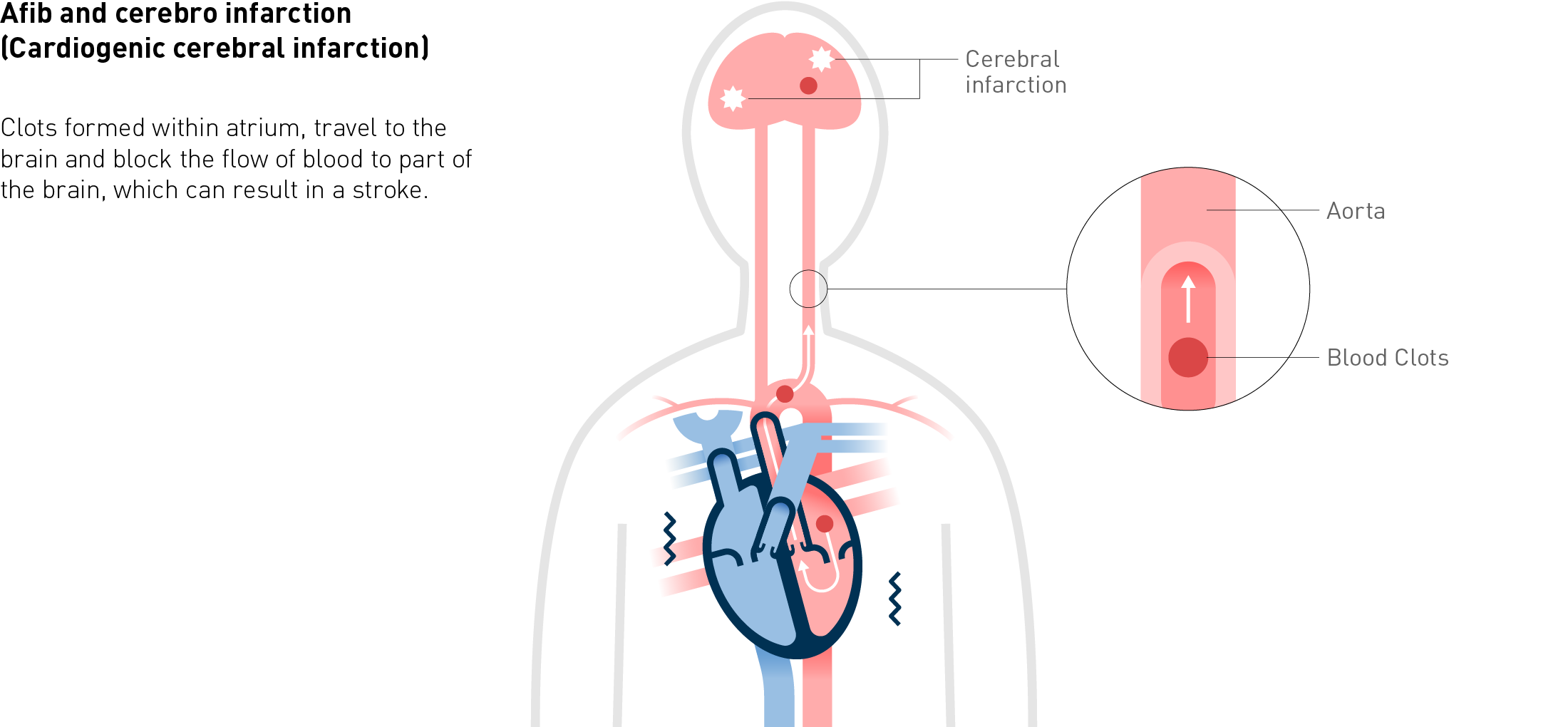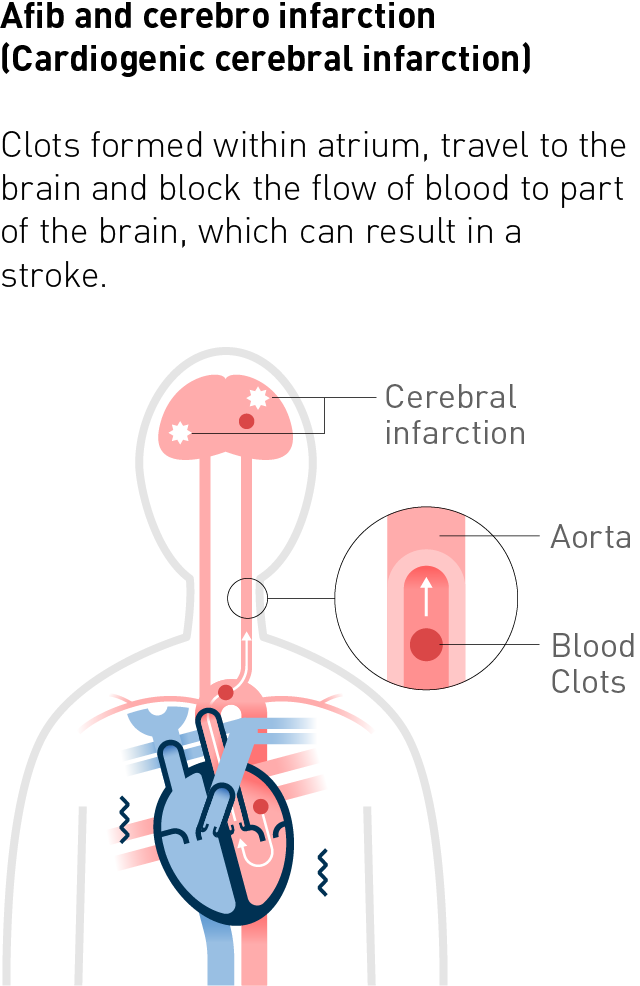 Rising number of patients with Afib
One of the factors of Afib is aging. A study shows that 4% of men in their 80s and 2% of women in their 80s have Afib.
Estimated number of Afib patients in 2020 was 1 million and it is expected to dramatically increase due to the rapidly aging society.
Atrial Fibirlation prevalence continues to rise, expected 40% increase of patients aged over 65 in the next 10 years.
Make home ECG reading more accessible
OMRON Healthcare has developed devices to record home ECG with the aim of realizing zero cerebrovascular and cardiovascular events – an upper-arm blood pressure monitor with built-in ECG was released in 2019 and a portable ECG in 2022.
Blood pressure measurement with ECG technology enables hypertensive patients with a higher risk of Afib to record ECG while monitoring blood pressure as part of their daily routine.
Those who have not noticed any symptoms can also detect the risk of developing Afib during their daily blood pressure monitoring.
News release: OMRON launched the preventive educational business of cerebrovascular and cardiovascular diseases with Japan's first upper-arm blood pressure monitor with ECG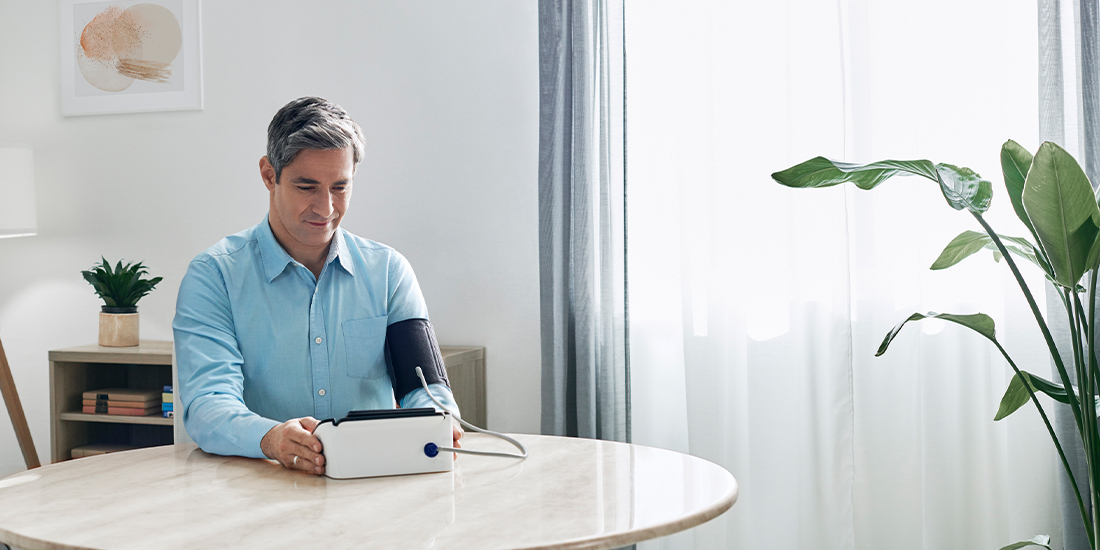 1. Y. Yotov, Journal of Hypertension Vol 34, September 2016,e204.

The target was 1,605 participants aged 65 and over. A rate of newly detected Afib case per ECG recording was 0.93% (15/1,605). A detection rate of hypertension with comorbidity of AFib was 1.59% and this is 3 times higher than the individuals without comorbidity. The result shows that Afib is more frequently developed when individuals have lifestyle diseases such as hypertension.
Thank you for subscribing!