CES 2022 | Topic 04
The Future of our Vision: "Going for Zero"
Predicting the risks of cerebro-cardiovascular diseases with the help of AI technology.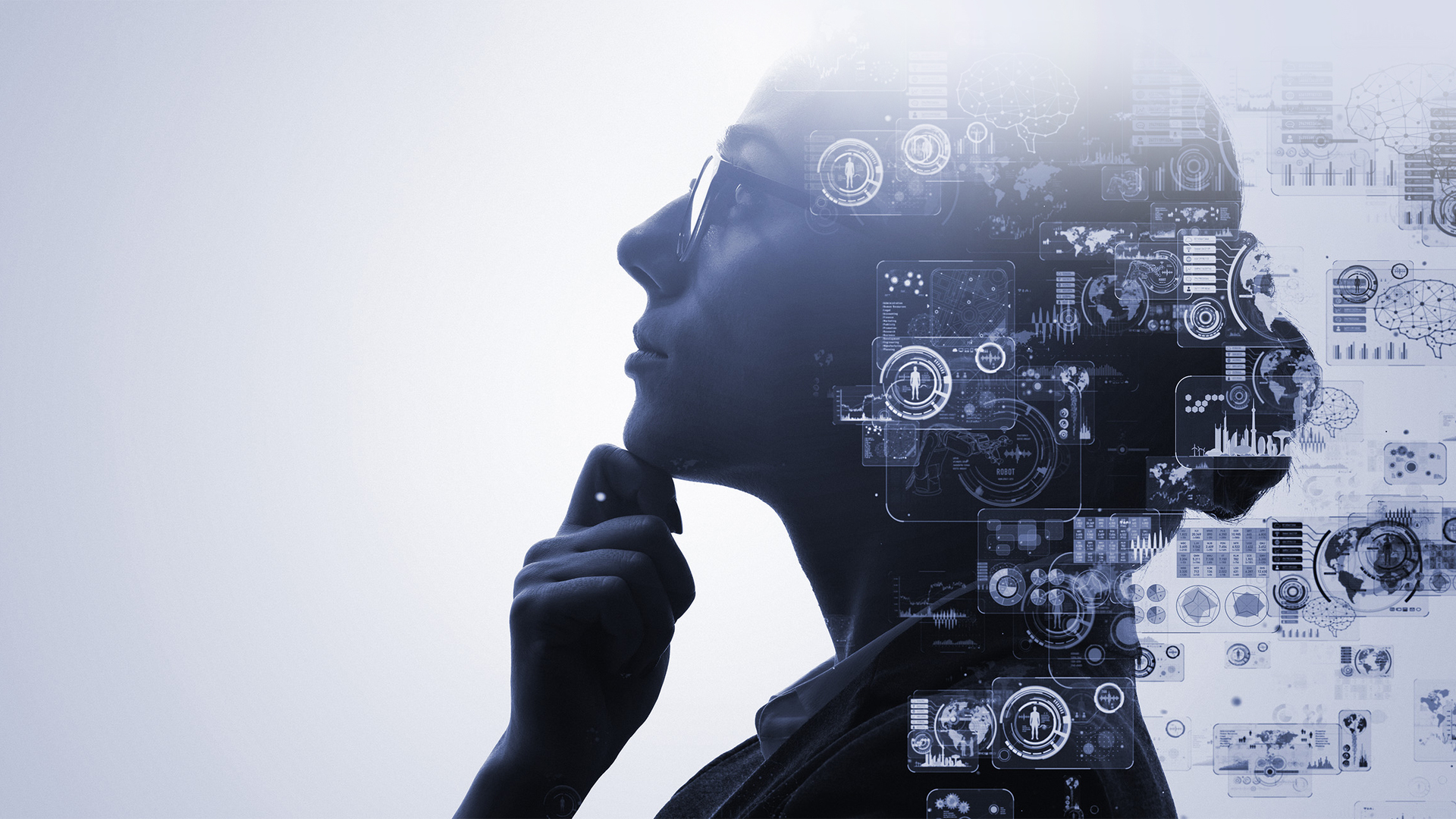 CES 2022 | Topic 04
The Future of our Vision: "Going for Zero"
Predicting the risks of cerebro-cardiovascular diseases with the help of AI technology.
Taking on the challenge to prevent disease by using health data self-monitored at home
In pursuit of its Zero Events vision, OMRON Healthcare is working hard to enable increased wellness in society.
When people talk about desiring "wellness", what do they really mean? The answer is that they and their families and friends want to be able to lead secure lives every day with peace of mind, without feeling threatened by illness. As we move closer to our aim of achieving Zero Events*, OMRON Healthcare will take up the challenge of preventing the incidence of cerebrovascular and cardiovascular diseases by making use of health data monitored at home.
*Zero Events: Reducing the incidence of cerebrovascular and cardiovascular diseases caused by high blood pressure to zero.
AI technology to explore possibilities presented by self-monitored health data
By leveraging AI technology, new solutions can be developed to minimize risk for heart diseases
OMRON aims to make the best use of artificial intelligence technology, fully utilizing blood pressure and other vital signs data monitored at home to manage health and prevent disease from developing and progressing.
To achieve this, OMRON Healthcare partnered with Kyoto University in a collaborative research project called "Healthcare AI Workshop". Launched on June 1, 2021, the project is developing an unprecedented type of healthcare AI, aimed at facilitating hypertensive patients' blood pressure control and minimizing risk for cerebrovascular and cardiovascular diseases.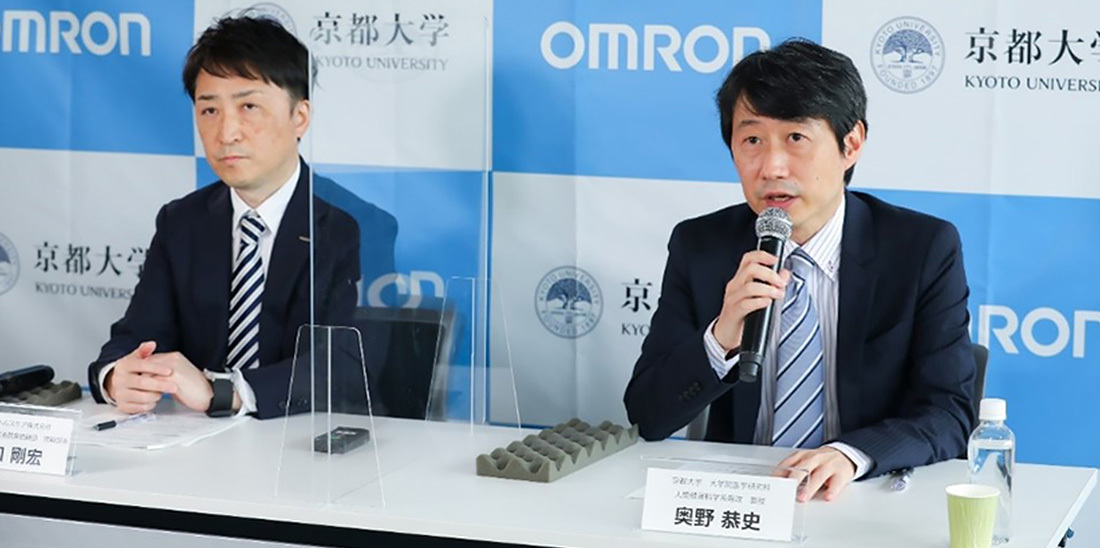 Right: Yasushi Okuno, Ph.D., Prof., Department of Biomedical Data Intelligence, Graduate School of Medicine, Kyoto University / Left: Takehiro Hamaguchi, General Manager, Product Innovation Department, OMRON Healthcare
The workshop is devoting its efforts to get the most out of health data monitored at home in order to prevent the incidence of serious disease as a part of daily living, and will focus on two themes to promote research.
Research theme #1
Creating a personalized blood pressure management method — Development of personalized blood pressure improvement AI
More effective approach for better blood pressure control
According to the Japanese Society of Hypertension's Guidelines for the Management of Hypertension 2019, 30 percent of hypertensive patients undergoing treatment do not have their blood pressure properly controlled.
OMRON Healthcare's blood pressure monitors equipped with Artificial Intelligence can provide optimized control for patients
This workshop aims to develop AI for a blood pressure control method customized for each patient from vital signs data monitored at home and lifestyle data, such as cigarette smoking and alcohol consumption.
Blood pressure fluctuates constantly throughout the day. Numerous factors cause changes to blood pressure, including meals, exercise, sleep, stress, ambient temperature, etc., and the patterns of changes also vary by person. OMRON Healthcare offers a wearable blood pressure monitor enabling measurement anytime during the day, and a nocturnal blood pressure monitor. These devices can be used to detect blood pressure fluctuations in the course of a normal day, and AI can be used to discover the causal factors for blood pressure changes. This in turn will enable medication planning and lifestyle improvement programs that are optimized for individuals. Once it becomes possible to customize blood pressure control for individual patients, patient motivation to high blood pressure treatment will also increase, while the burden on physicians can be reduced.
Research theme #2
Early detection of cerebrovascular/ cardiovascular events making use of self-monitored health data.
Developing AI to detect warning signs of cerebrovascular/ cardiovascular events
Even if a patient appropriately controls blood pressure, it is insufficient to completely eliminate the onset of serious events such as strokes or heart attacks. Enabling early-stage detection for such events is a key health challenge. Simply controlling blood pressure is not enough to reduce the incidence of cerebrovascular/cardiovascular diseases to zero. Because of this limitation, the research workshop will work to develop AI technology capable of detecting warning signs for these life-threatening events based on the blood pressure readings, ECG data, etc., patients can take on a daily basis.
Everyday living can be more healthy and secure with appropriate blood pressure control.
The goal is to create an environment in which hypertensive patients will receive fully personalized healthcare on a timely basis, making best use of health data patients measure at home. This will help eliminate concern regarding strokes or heart attacks, and enable patients to lead healthy lives with effective blood pressure control. And as we continue to advance our consultation support service, we will also seek to reduce the burden on medical professionals, which is a critical social challenge today.
Celebrating 300 million of
Blood Pressure Monitors
Thank you for subscribing!