CES 2022 | Topic 03
Remote Patient Monitoring Goes Global
OMRON Healthcare's RPM program enables patients to measure blood pressure at home and share the data with their physicians, for better and more efficient hypertension treatment.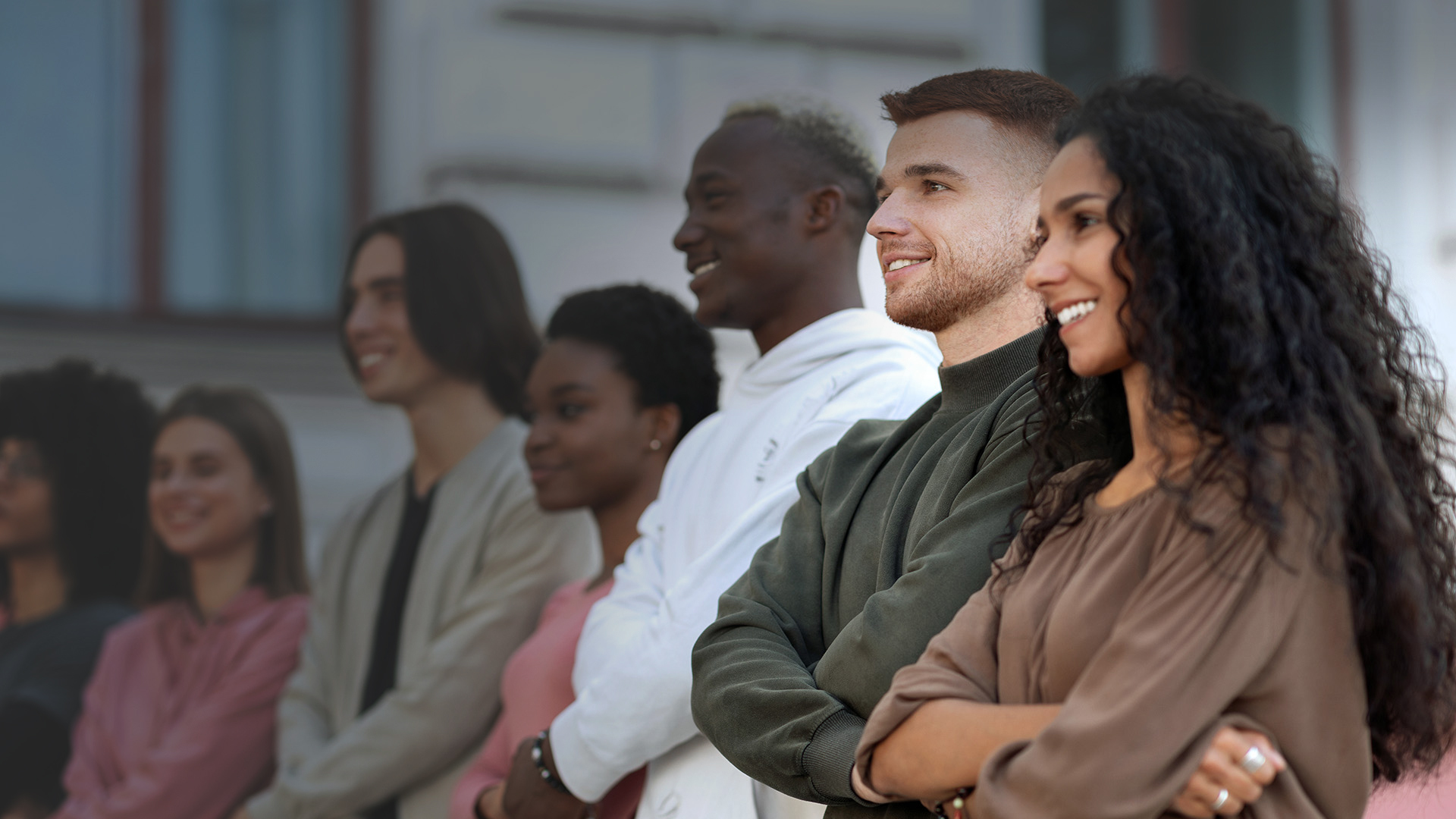 CES 2022 | Topic 03
Remote Patient Monitoring Goes Global
OMRON Healthcare's RPM program enables patients to measure blood pressure at home and share the data with their physicians, for better and more efficient hypertension treatment.
VitalSight™: Remote Patient Monitoring service in the United States
Remote blood pressure monitoring enables clinicians to tackle heart diseases, a leading cause of death worldwide.
Nowadays, the world's top two causes of death were ischemic heart disease and stroke. Deaths due to cerebro/cardiovascular diseases are expected to increase to 22.2 million by 2030, accounting for fully 32.5% of the total deaths in the world in a year when the global population is projected to be 8.2 billion. According to the U.S. Center for Disease Control and Prediction (CDC), more than 37 million adults in the United States suffer from stage 2 hypertension that carries a risk of heart attack or stroke, but are not receiving appropriate treatment. This situation has moved the U.S. to propose a plan that aims to increase the rate of blood pressure control, raising the proportion of people with blood pressure appropriately maintained to 80% by 2025.
To tackle this issue, OMRON Healthcare commenced operation of the VitalSight™ remote patient monitoring system for chronic disease such as hypertension in June 2020 at the New York-based Mt. Sinai Hospital. This was then followed by the commercial launch of this system in September 2020.
When patients' vital signs at home including blood pressure and weight are shared with clinicians remotely, clinicians are able to comprehend patients' physical conditions outside of office or hospital visits, and they can receive alerts when a patient has readings that indicate action needs to be taken. This helps clinicians to provide more accurate diagnosis and treatment.
https://www.youtube.com/watch?v=hN2Hj1uk71c
1. Clinicians enroll patients in the VitalSight system. Patients receive a kit delivered to their home.
2. Patients plug in a pre-set data hub. It's just plug and play.
3. Readings are automatically sent to the clinician's office for review.
4. VitalSight sends automatic notifications through the Electronic Medical Record (EMR) system when a patient has readings that indicate action needs to be taken.
VitalSight can be integrated directly with the Electronic Medical Record (EMR) system.
Hypertension Plus suggests medication plans to doctors in the UK, using blood pressure data measured at home
To improve hypertension treatment, OMRON has developed a new, remote solution that enables doctors and healthcare professionals to manage medication administration efficiently online.
About a third of adults in the UK are hypertensive. The National Health Service (NHS), a publicly funded comprehensive health service administered by the UK government, has set a goal of achieving an 80% blood pressure control rate by 2030. The 2020 control rate was estimated at 60%, thus more efforts are needed. Patients in the UK are access to pre-registered general practitioners (GPs) except for emergencies. For GPs with busy practices, patients have a longer waiting time and often inadequate consultation time. These situations may cause patients to interrupt or even discontinue treatment. As such, key points for hypertension management are to improve treatment efficiency and support continuity of treatment.
Hypertension Plus recommends a customized medication plan for each patient to the doctor. The recommendations are based on clinically proven medication titration techniques conforming to hypertension guidelines by the National Institute for Health and Care Excellence (NICE). They become guidance for choosing anti-hypertensive drug treatment depending on age group and complications. Hypertension Plus draws on the TASMIN* home blood pressure trials, a clinical study that proved the potential to reduce blood pressure through a self-management and medication self-titration program conducted at the University of Oxford. Patients are provided with a pre-determined three-month medication plan, meaning they are free from having to visit their GP's office every month, and doctors can make more effective use of consultation time. Patients can share self-measured blood pressure readings and any subjective symptoms with their doctors. This means medication administration tasks by doctors and healthcare professionals can all be completed online. An alert function continuously supports patients in taking the right medicine and improving medication adherence.
*TASMIN program indicated a significant (4.7mmHg) systolic blood pressure reduction after 12 months of using a telemonitoring platform to titrate when compared to usual care.
https://www.thelancet.com/journals/lancet/article/PIIS0140-6736(18)30309-X/fulltext
Management screen for doctors 1. / Left: List of patients color-coded according to BP level / Center: Doctor's task list / Right: Individual patient's BP graph data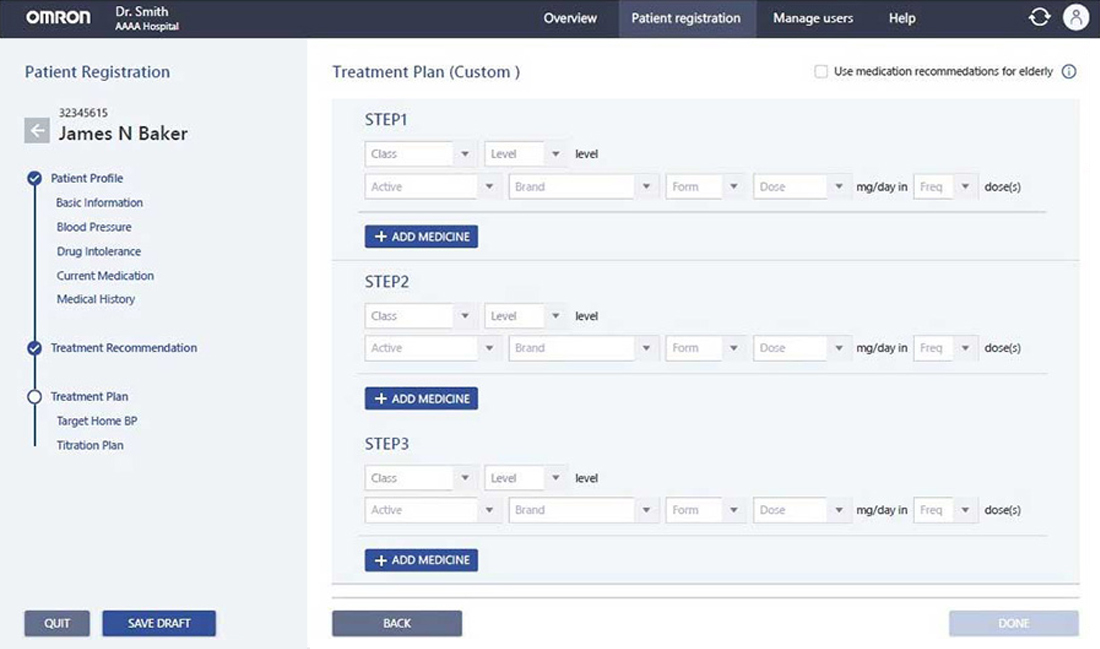 Management screen for doctors 2. / Left: Patient's registered information / Center: 3-month medication plan recommendation
Smarthphone app screen for patients / Left: Daily BP management schedule with the time of day for medication and measuring BP / Center: BP management screen showing BP readings and graph / Right: Medication plan screen showing the previous medication plan and medication status
Hypertension Plus website
https://www.omron-healthcare.co.uk/hypertensionplus/
1. Clinicians suggest patients join Hypertension Plus. Patients download the dedicated mobile app.
2. Patients enter their blood pressure readings into the app.
3. The clinician receives a tailored medication plan for the patient generated by Hypertension Plus, assesses it and provides access to the patient. The patient is able to review the plan on their app. *Prescription medication is in compliance with the facilities' operation system.
4. The patients review the results and medication plans with the app. The clinicians modify medication plans at their discretion.
HeartVoice: One-stop health program providing comprehensive solutions
In 2019, we launched HeartVoice, a services that aims to help employees through health examinations and online consultation in Singapore
In Singapore, OMRON Healthcare has moved into the corporate wellness business with a new service based on its online patient monitoring services, aiming to improve the health of corporate employees. In 2019, we set up a joint venture with iAPPS Pte Ltd., a Singapore-based financial medical technology firm, and launched HeartVoice, a full set of healthcare solutions including employee medical checkups and remote patient monitoring. Services provided by HeartVoice are designed to help employees reduce the risk of prevalent health conditions such as cardiovascular disease.
With HeartVoice, employees are also able to receive health-related information and suggestions based on their conditions. To encourage users to be committed to managing their health, they are offered shopping coupons when their health status is improved by using this platform. HeartVoice has acquired a clinic, and now the range of the service has expanded to those who are not entitled to receive employee benefits, or those who are outpatients.
Celebrating 300 million of
Blood Pressure Monitors
Thank you for subscribing!