Our Challenge
Remote Patient Monitoring Service
About the efforts of OMRON Healthcare to promote RPM services in order to ensure daily blood pressure management, hence reduce heart diseases.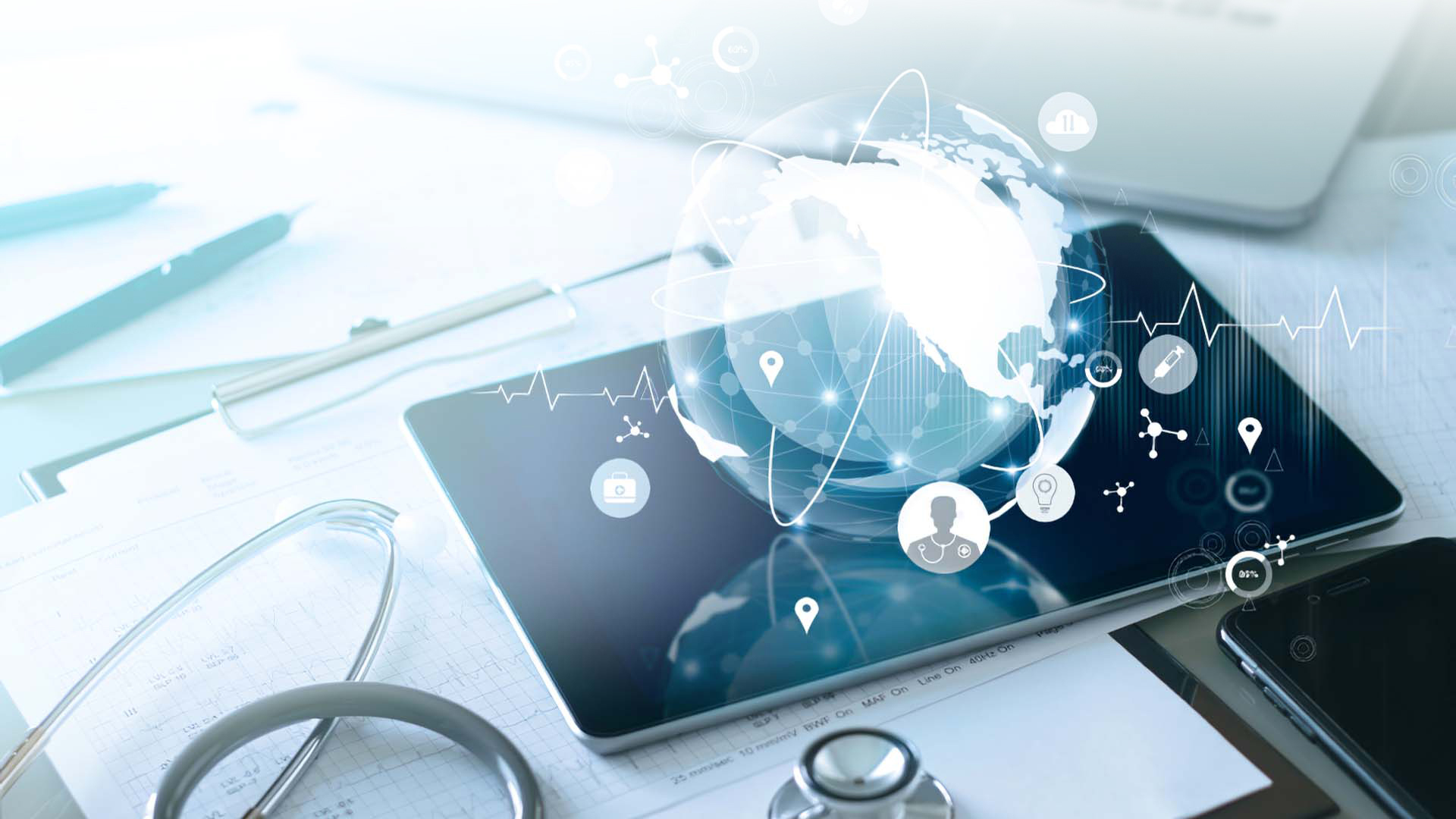 Our Challenge
Remote Patient Monitoring Service
About the efforts of OMRON Healthcare to promote RPM services in order to ensure daily blood pressure management, hence reduce heart diseases.
Remote Patient Monitoring (RPM) service for heart health
Conventional treatment of hypertension does not provide a comprehensive picture of the patient's blood pressure change trends.
OMRON Healthcare strives to achieve its vision to help minimize stroke, heart attack, and other cerebrovascular/cardiovascular diseases that affect people's lives and also their quality of life. This 'Zero Events' vision, introduced in 2015, is embodied in our commitment to continuously offer devices and services that serve to detect and treat hypertension, declining cardiac function as well as other abnormal conditions at the early stages.
Conventional treatment of hypertension and heart disease is based on a patient treatment plan formulated by a physician using data from the patient's vital signs at the physician's office. But since blood pressure fluctuates all the time, the data obtained at a physician's office alone is not optimal for identifying the patient's blood pressure change trends. This makes it difficult to evaluate the efficacy of the medication prescribed.
In pursuit of our vision, we develop devices and services (e.g. RPM services) in order to detect and treat hypertension.
To resolve this issue, we launched Remote Patient Monitoring (RPM) services that enable patients to record health data at home and share it with physicians, who can monitor and use it for early-stage detection and treatment. In addition, we are working on a service that uses self-monitored patient blood pressure data to create a custom medication plan for each patient. We also offer an online consultation service that enables users to consult a doctor or other healthcare professional for medical advice.
The COVID-19 pandemic has forced social infrastructure-related issues, lifestyle changes and changing people's values. These changes in turn ramped up interest inremote patient monitoring services. OMRON Healthcare takes up the challenge to aggressively expand into new service fields, always keeping our eye on accomplishing our "Zero Events" vision.
VitalSight™: Remote patient monitoring service in the United States
In 2020, the top two world-leading causes of death were ischemic heart disease and stroke.
By 2030 when the world's population is an estimated 8.2 billion, deaths due to cerebro/cardiovascular diseases are expected to increase to 22.2 million, accounting for 32.5% of total death. According to the US Centers for Disease Control and Prevention (CDC), more than 37 million adults in the United States suffer from stage 2 hypertension are not receiving appropriate treatment despite the risk of heart attack or stroke. This has prompted the US to propose a plan to increase the proportion of people maintaining blood pressure appropriately to 80% by 2025.
To tackle these issues, OMRON Healthcare launched the VitalSight™ remote patient monitoring system for chronic disease such as hypertension in June 2020 at Mt. Sinai Hospital in New York. VitalSight™ was launched commercially in September 2020. With, VitalSight™, patients with hypertension or other chronic diseases can directly transmit their vital signs such as blood pressure to the hospital's electronic medical record system. With access to real-time health data, patients and physicians/healthcare professionals can examine the data and request or carry out medical interventions without delay. By tracking patient day-to-day health conditions in a timely manner, physicians now can quickly respond to any abnormality detected, achieving treatment that is more effective and efficient as well as customized for each patient.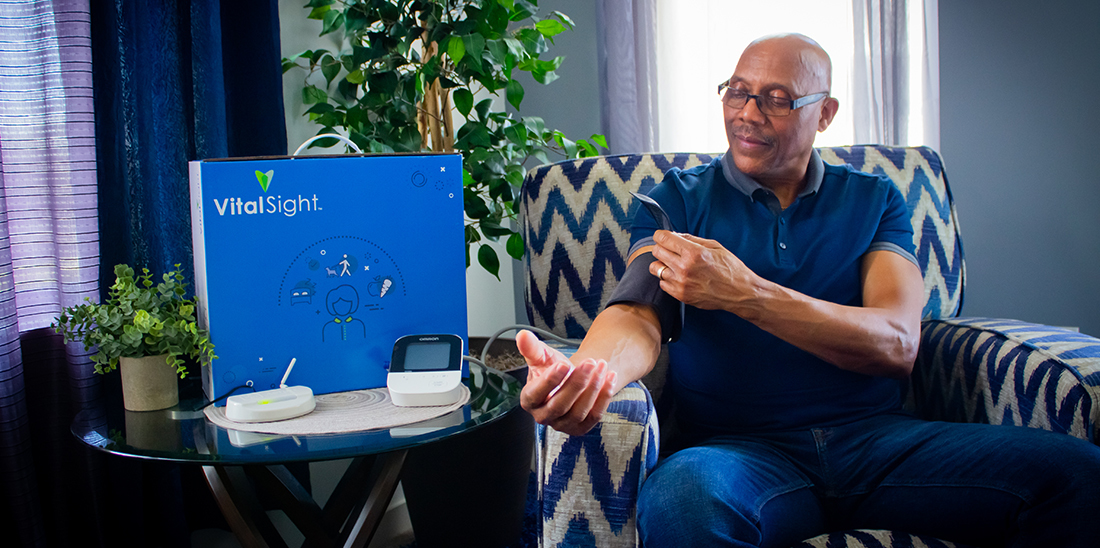 HeartVoice: One-stop corporate health program in Asia
Introducing HeartVoice, a new service aiming to discover hypertension or any chronic disorder early
As part of our "Zero Events" vision, OMRON Healthcare developed HeartVoice, a service for companies to enable the early discovery of hypertension or other chronic diseases among employees and assist them in receiving medical advice. Currently in operation in Singapore, HeartVoice makes an initial diagnosis and then assists employees in receiving an appropriate online consultation service depending on their condition. In addition to discovering previously undiagnosed conditions, HeartVoice also support for employees with chronic disease who may not make a hospital visit due to COVID infection fears.
We plan to use the knowhow and expertise accumulated in Singapore to roll out HeartVoice to other parts of Asia. This service will help solve various health-related social issues that have recently surfaced in the region such as physician shortages and insufficient healthcare services outside urban areas.
Hypertension Plus: Remote patient monitoring and medication plan in the UK
Hypertension is a more burning issue than you might think. About a third of adults in the UK are hypertensive.
The National Health Service (NHS), a publicly funded comprehensive health service, has set a blood pressure control rate goal of 80% blood pressure control rate by 2030, up from an estimated 60% in 2020. Patients in the UK are access to pre-registered general practitioners (GPs) except for emergencies. For GPs with busy practices, patients have a longer waiting time and often inadequate consultation time as well. This situation may cause patients to interrupt or even discontinue treatment. For optimal hypertension management, efficiency and continuity of treatment are essential.
Hypertension Plus recommends a customized medication plan for each patient to their doctor, serving as guidance for anti-hypertensive drug treatment depending on age group and complications. The recommendations are based on clinically proven medication titration techniques conforming to hypertension guidelines by the National Institute for Health and Care Excellence (NICE). Hypertension Plus draws on the TASMIN* home blood pressure trials, a clinical study conducted at the University of Oxford that proved the potential to reduce blood pressure through a self-management and medication self-titration program . Patients are provided with a pre-determined three-month medication plan, meaning they do not need to visit their GP's office every month, and doctors can make more effective use of consultation time. Patients can share self-measured blood pressure readings and any subjective symptoms with their doctors. This means medication administration tasks by doctors and healthcare professionals can all be completed online. An alert function continuously supports patients in taking the right medicine and improving medication adherence.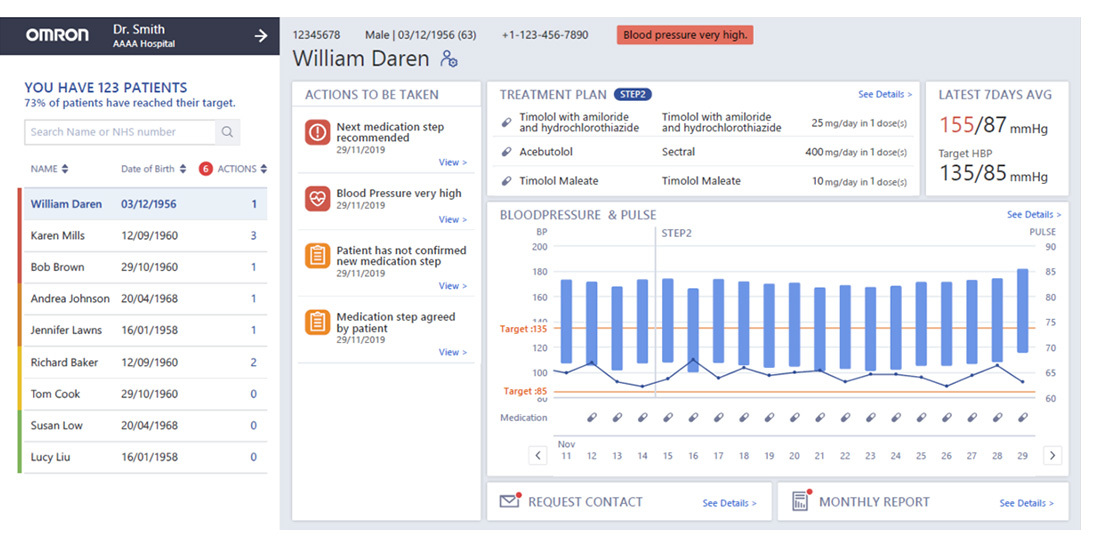 Management screen for doctors 1. / Left: List of patients color-coded according to BP level / Center: Doctor's task list / Right: Individual patient's BP graph data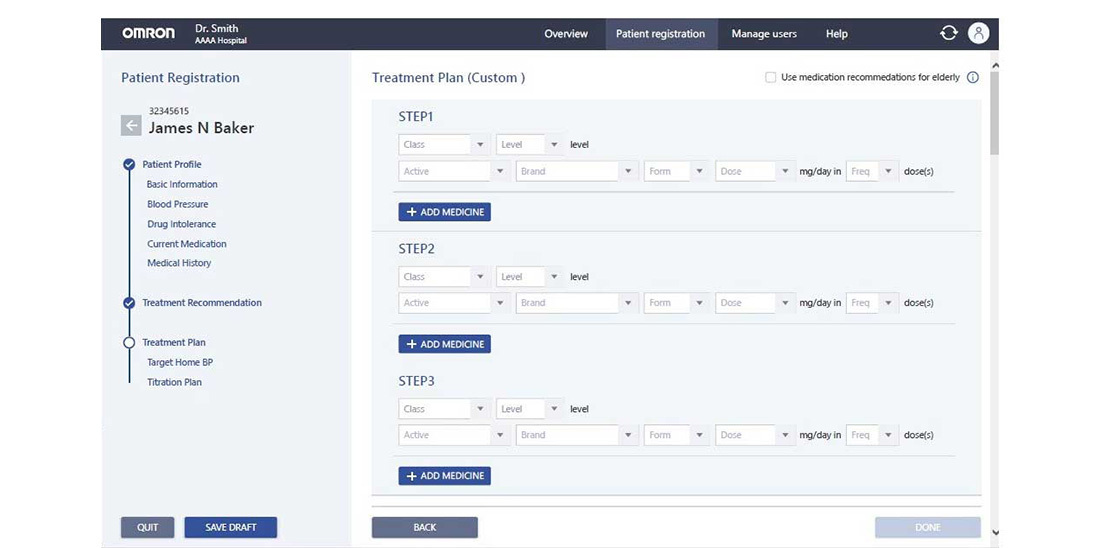 Management screen for doctors 2. / Left: Patient's registered information / Center: 3-month medication plan recommendation
Smarthphone app screen for patients / Left: Daily BP management schedule containing the time of day for medication and measuring BP / Center: BP management screen showing BP readings and graph / Right: Medication plan screen showing the previous medication plan and medication status
RPM partnership with Luscii in the Netherlands
Being in a fruitful partnership with Luscii, OMRON Healthcare will work on innovative solutions to ensure patients can receive the right treatment in time.
In 2019, OMRON Healthcare formed a strategic partnership with Luscii, a leading RPM and online consultation service provider targeting specialized physicians of large hospitals mainly in the Netherlands. With the Luscii service, patients with heart disease, COPD or hypertension can be monitored remotely and can seek consultation from a doctor online. This service is already in operation at over half of Dutch hospitals. Remote monitoring with the Luscii app warns the patient's health network in the event of a deteriorating health condition. Direct contact is then made with the doctor via the app, so the patient can receive appropriate care. This can reduce the number of hospital visits, face-to-face consultations and ultimately hospitalization. Going forward, OMRON Healthcare will work with Luscii to develop algorithms and programs capable of offering treatment advice for doctors, nurses and patients.
*TASMIN program indicated a significant (4.7mmHg) systolic blood pressure reduction after 12 months of using a telemonitoring platform to titrate when compared to usual care. Lancet.2018Mar10;391(10124):949-959.: https://www.thelancet.com/journals/lancet/article/PIIS0140-6736(18)30309-X/fulltext Hypertension Plus website: https://www.omron-healthcare.co.uk/hypertensionplus/
Thank you for subscribing!