Our Challenge
Nocturnal Blood Pressure Monitoring at Home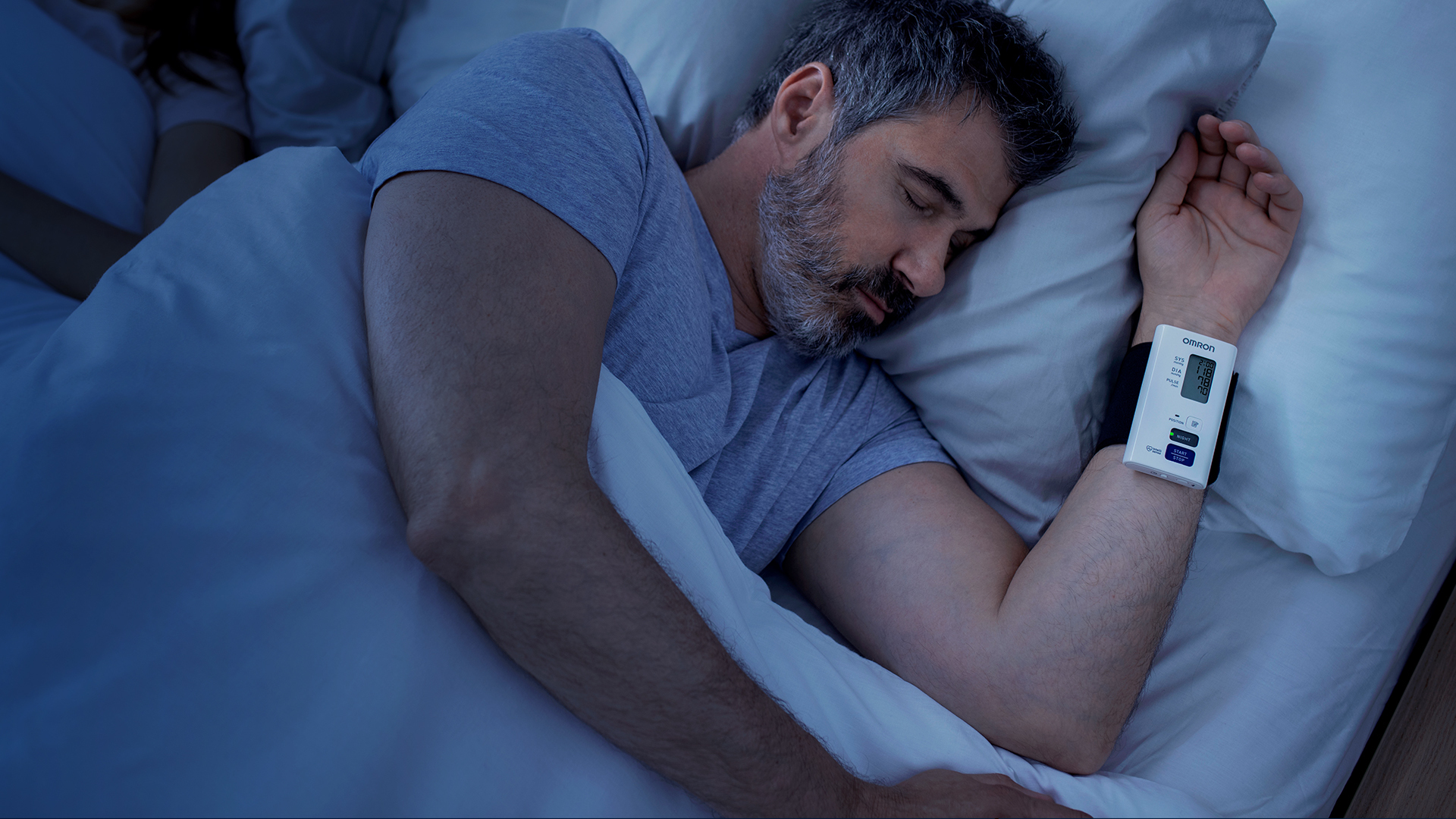 Our Challenge
Nocturnal Blood Pressure Monitoring at Home
Nocturnal blood pressure monitoring enters the home
Today, many individuals regularly track their blood pressure readings at home and manage their daytime blood pressure appropriately. However, high blood pressure at night (nocturnal hypertension) can frequently be overlooked. Blood pressure fluctuation patterns vary from person to person and that means that taking daytime blood pressure measurements alone really does not allow for a full understanding of a person's blood pressure levels and fluctuations.
In order to maintain normal blood pressure values throughout the day and to prevent cerebrovascular and cardiovascular diseases and events that high blood pressure can cause, demand for a monitor that can provide nighttime blood pressure readings during sleep is increasing.
Nocturnal hypertension risk lurking behind properly managed blood pressure
Normally, blood pressure readings at night are known to record values 10-20% below daytime readings. But in some cases, blood pressure may not go down even at night, and may even even exceed daytime blood pressure. The Japanese Society of Hypertension's (JSH) Guidelines for the Management of Hypertension 2019 define nocturnal hypertension as an average systolic nocturnal blood pressure reading (while asleep) of 120mmHg or higher and/or a diastolic nocturnal blood pressure over 70mmHg.
Study findings confirm increased stroke risk
A study by Professor Kazuomi Kario's group at Jichi Medical University resulted in the following findings after some seven years: For a group with high average nocturnal systolic blood pressure readings (132.3mmHg or higher), stroke incidence increased by a factor of 5.4 times compared to a normal blood pressure group (108.7-116.3mmHg).¹
Prevalence of nocturnal hypertension
Nocturnal hypertension can often be overlooked, even for those who regularly take blood pressure readings in the morning and evening, because blood pressure changes constantly throughout the day. Study reports showed that nearly one in four patients with normal morning blood pressure had nocturnal hypertension.²
The risk of nocturnal hypertension can remain unseen even with appropriate blood pressure control. To enable everyone to monitor nocturnal blood pressure at home and become aware of its risk, OMRON Healthcare has been committed to developing a home-use nocturnal blood pressure monitor, as we endeavor to reduce the incidence of cerebrovascular and cardiovascular diseases caused by high blood pressure to Zero.
Wrist nocturnal blood pressure monitor provides accurate readings while ensuring good sleep quality
Neither an ambulatory blood pressure monitor (ABPM) commonly used for nocturnal blood pressure monitoring, nor a very popular upper arm monitor is easy to use when an individual is sleeping. These products and their techniques for use disrupted sleep due to the cuff's restrictive feel, the monitor's pumping noise, and the tube getting in the way. These conditions can result in blood pressure values that could differ from the "true" values when the person is asleep. There may also be some stress from having to use a blood pressure monitor and this may even interfere with blood pressure monitoring continuity.
This points to the need for a monitor capable of accurate blood pressure measurement while maintaining satisfactory sleep quality. With this in mind, we developed a new wrist nocturnal blood pressure monitor that features silent pumping action and a slim design.
During product development, we faced the difficult challenges of the individual's movements during sleep. The OMRON proprietary wrist-cuff design was a solution, ensuring proper measurements without disturbing sleep.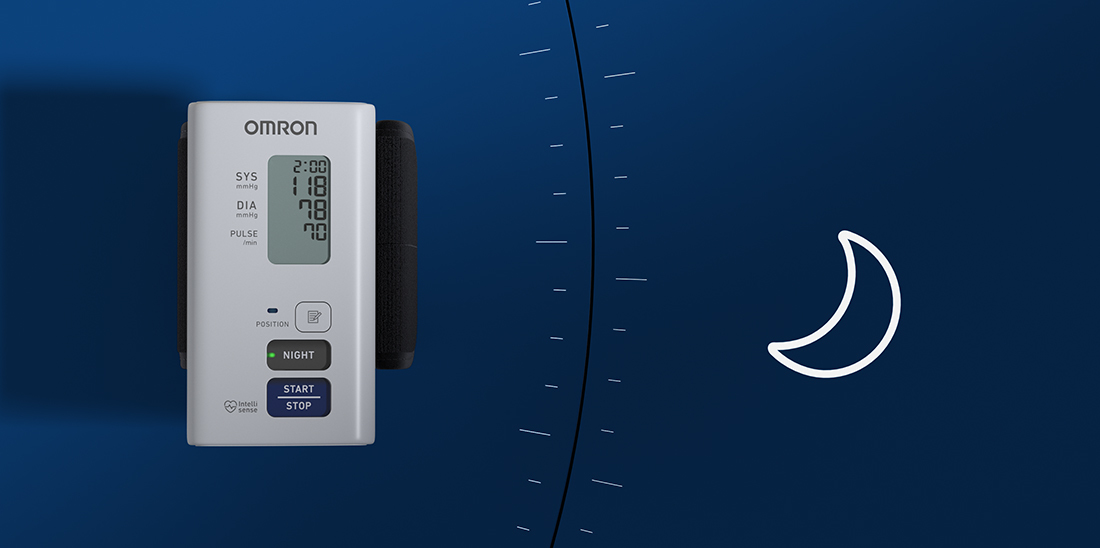 All OMRON blood pressure monitors aim to be user-friendly and stress-free even for daily use, as well as provide high measurement accuracy. The new nocturnal blood pressure monitor is not an exception.
Home blood pressure monitoring evolution brings Zero Events closer to reality
The quest for early detection and treatment of nocturnal hypertension revolves around various challenges. The first is that we need to increase awareness of nocturnal hypertension risk and the importance of blood pressure monitoring at night. It is also necessary to encourage the medical community to recognize the significance of home-monitoring of nocturnal blood pressure and to establish standard approaches to nocturnal hypertension treatment. As we tackle these challenges, we are proactively engaged with research studies and educational activities on nocturnal hypertension.
To date, OMRON Healthcare has revolutionized blood pressure monitoring, transitioning it from a clinical practice conducted at a hospital to a daily at-home habit, and also changing the measurement frequency from "once a day" to "twice a day," in the morning and evening. To bring Zero Events closer to reality, we will be promoting nighttime blood pressure monitoring.
1. Adapted from "Kario K et al., Hypertension. 2019 Jun; 73(6):1240-1248." 2. Based on "Kario K et al., The Journal Of Clinical Hypertension 2015 May;17(5):340-348" and with partial revisions.
Thank you for subscribing!