Our Journey
Measurement Accuracy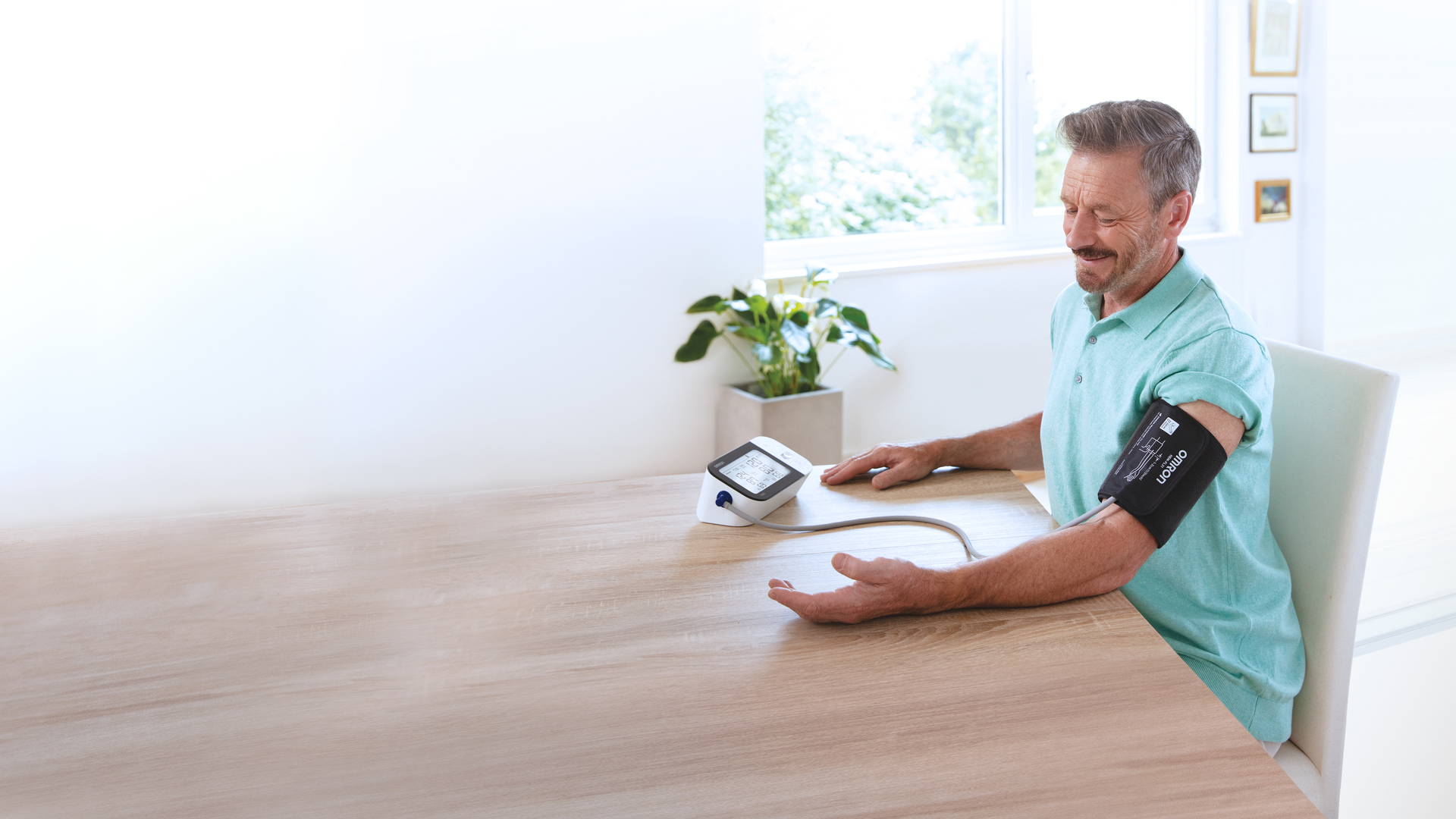 Our Journey
Measurement Accuracy
In pursuit of accuracy and usability
OMRON Healthcare has about 50 years of pioneering expertise in blood pressure management with an unchanged objective to enhance accuracy and usability
Long considered a barometer of health, blood pressure is an important vital sign for indicating the physical condition of an individual. Before blood pressure monitors had a place in general households, a medical professional took a person's blood pressure. Applying the monitor cuff and controlling the degree of inflation necessitated professional medical knowledge and expertise. For the average person to be able to correctly measure blood pressure at home by themselves, measurement accuracy and usability are essential. It is already some 50 years since we began development of a blood pressure monitor but our efforts toward measurement accuracy and usability remains unchanged and ongoing. Here are some examples of our endeavors on the way to reaching these goals.
The world's first home-use fuzzy logic-based blood pressure monitor
Automatic cuff inflation levels allow even first-time users to obtain accurate readings
Just wrap the cuff around an arm and press the start button - a very simple operation that is already the norm for home-use monitors. However, to make this simple operation possible required developing many different technologies and many improvements along the way. A product that contributed the most to improving measurement accuracy was the HEM-706 Fuzzy digital blood pressure monitor, developed in 1991. Before this model's debut, every monitor required the user to manually set the degree of cuff inflation to suit their systolic pressure measurement. The complicated setting procedure caused pressure reading variations because some people were not familiar with their systolic pressure or did not understand how to set the correct inflation level. The fuzzy logic technology incorporated in the HEM-706 made it possible to automate the inflation level-setting procedure. This allowed anyone to obtain accurate blood pressure readings in a stress-free manner, eliminating pressure variations due to human factors and the need for re-measurement.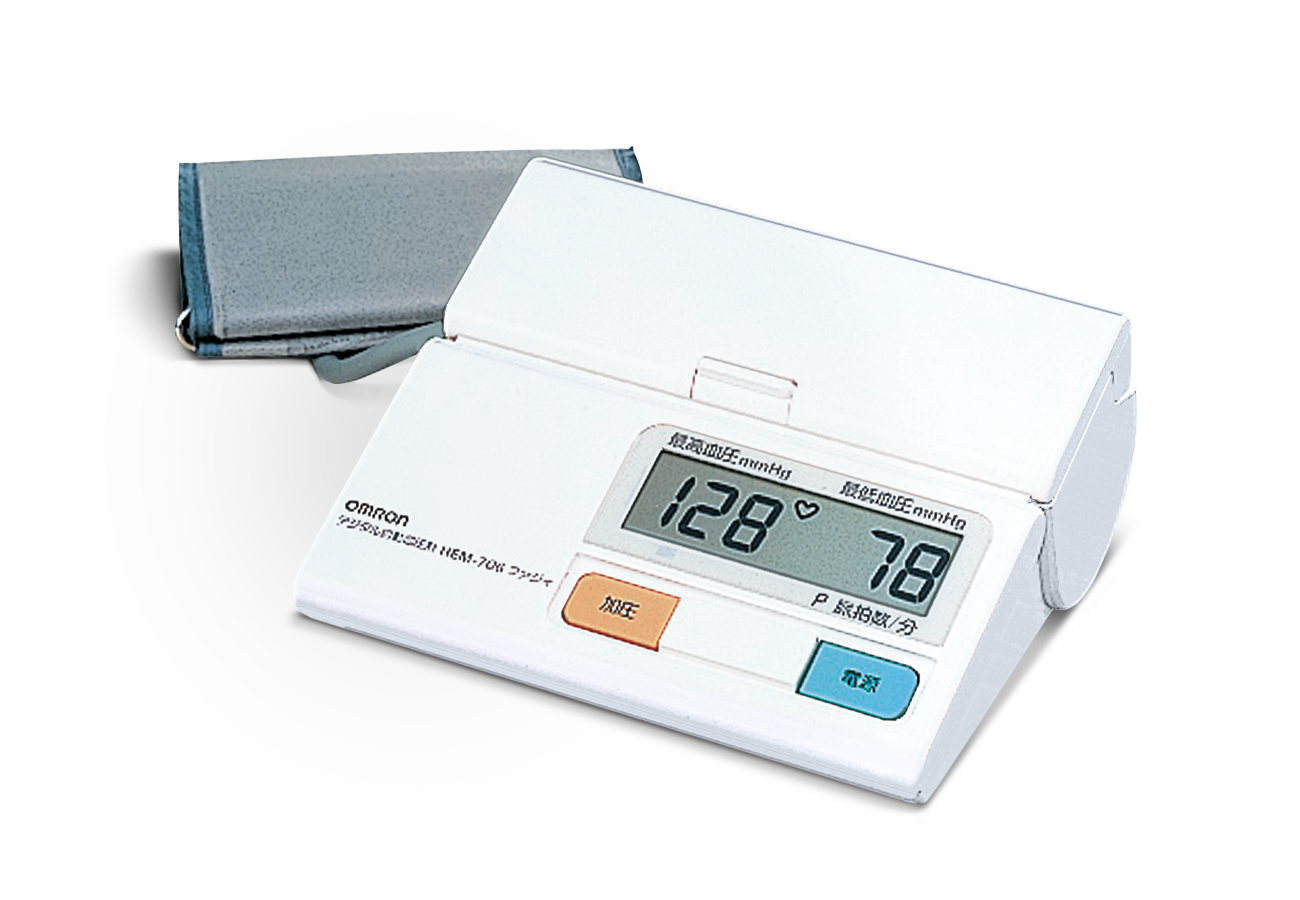 Aiming for individually optimized blood pressure monitoring
Even after fuzzy logic technology was introduced, OMRON Healthcare continued to pursue greater measurement accuracy. A home-use monitor requires wrapping the cuff around the user's upper arm or wrist, but size and firmness vary from person to person. To offer more accurate measurement results for a greater number of people, we developed a new inflation/deflation technology (algorithm) that would ensure accurate measurement regardless of arm/wrist size and firmness. This technology was later incorporated into all our home-use monitors.
Understanding people was the key in devising a cuff that allows easy and proper placement
What makes blood pressure reading accurate?
Obtaining accurate blood pressure readings obviously requires the monitor itself to be accurate. But just as important is to facilitate correct use. This requires the cuff to be snugly wrapped around the arm and the user to be sitting up straight during measurement, without leaning forward. We devoted much effort to developing and refining the cuff so that a user would naturally assume the required action/posture, without feeling any stress.
Bringing professional skills and expertise at home with an easy-wrapping ComFit Cuff
The conventional fan-shaped cuff tended to slip out of position when pulling on the edge to apply it securely. Medical professionals can correctly wrap the cuff to fit each patient's arm using their skill and expertise. Our development team aimed to enable anyone to do the same at home alone. To find a solution, the team started by trying to understand how people thought and acted regarding blood pressure readings. The team visited hospitals and research facilities in the US, Europe, Russia, and Japan, among others, and asked patients to wrap the monitor cuff around their arms and take their blood pressure readings. They analyzed this behavioural data and kept on improving. Each time an improvement to the cuff was made, the team tested it on hundreds of people, closely observing the way each person applied the cuff and took the measurement. These exhaustive efforts resulted in the easy-wrapping ComFit Cuff. This cuff was equipped with a curler to ensure secure positioning around the arm without sliding down and made one-hand attachment easy for anyone.
But our search for the best cuff design was not yet over
Feedback from customers indicated some resistance to measuring blood pressure because of the discomfort as the cuff was inflating. Continuity in measuring is vital for home blood pressure monitoring. So, we developed the eFit Cuff, which incorporated technology to reduce the discomfort from excessive pressure during cuff inflation depending on each user's arm type. eFit Cuff employed softer materials for the cuff and curler. These improvements reflected our desire to encourage as many people as possible to keep monitoring their blood pressure at home.
Research and development into a cuff that anyone can apply easily and properly continued. One finding was that it was hard for those with larger arms to apply the cuff. We also responded to a medical institution's request to develop a monitor that would work for children. We met these and other challenges by modifying the width and circumference of the cuff and creating different cuff types to fit different arms.
Other features of our blood pressure monitors also support correct measurement
These include:
• A Wrist Positioning Guide to make sure the wrist aligns with the level of the heart
Correct positioning of the wrist to align with the user's heart is crucial for reliable pressure measurement with a wrist-type monitor. In order for anyone to achieve easier aligning, the positioning guide notifies the user via its positioning indicators and symbols on the display whether the monitor is at the correct height. In addition, a posture check indicator flashes if the user starts measurement with an incorrect posture, allowing anyone to easily adopt the correct posture necessary for obtaining accurate readings.
• A Cuff Wrap Guide that provides error-free cuff placement
Symbols on the LCD screen on OMRON's wrist-type models confirm the cuff is correctly wrapped around the user's wrist at the proper tightness. Before this feature was developed, blood pressure reading errors sometimes occurred as the user was not sure if the cuff was correctly wrapped.
At OMRON Healthcare, reducing the cerebrovascular and cardiovascular events to zero is more than just our business vision. It also reflects the passion of all our employees engaged in this business.
In order to fulfill our desire to help as many people as possible to lead healthier lives, measurement accuracy and usability should never be compromised, even in the slightest degree. Our enthusiasm and determination that make it the leading company in blood pressure monitors will always remain strong.
Thank you for subscribing!