Our Journey
Design in Detail
Designing healthcare devices that blend into everyday living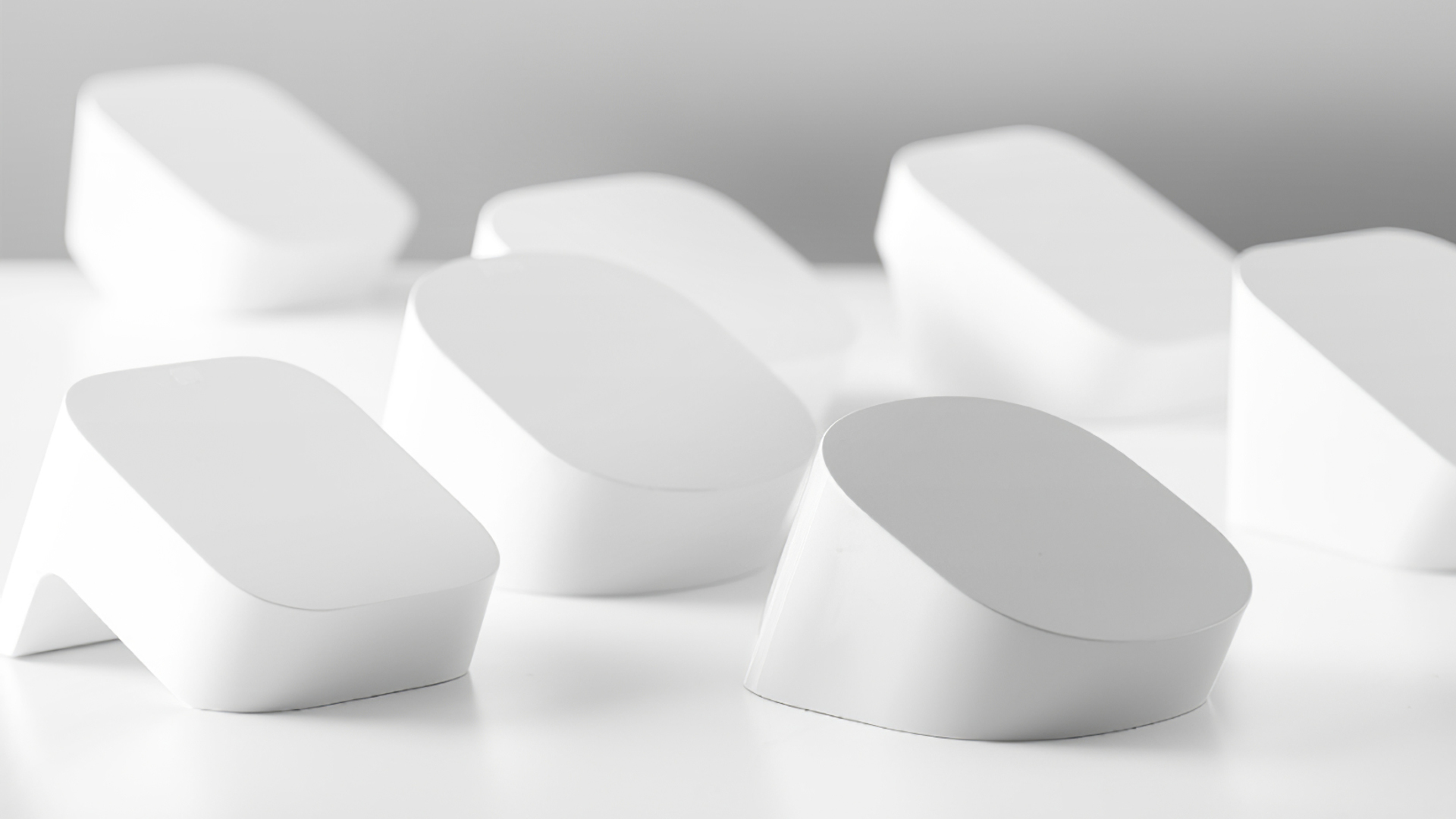 Our Journey
Design in Detail
Designing healthcare devices that blend into everyday living
Design for a Healthier Heart
Five core elements comprising OMRON Healthcare's design philosophy
In our product design process, we at OMRON Healthcare underline five core elements that must be incorporated. The product must be:
1. Honest
2. Precise
3. Intuitive
4. Comforting
5. Appropriate
This philosophy was developed over time through interacting with our customers and learning about the many different ways of everyday living. What can we do with design that will advance health and empower the lives of people around the world? The following describes some of our ongoing efforts to tackle this challenge.
The starting point of our design process is to learn about the ways people live
Blood pressure monitors are widely used by people from different countries, of widely differing ages, family units, lifestyles, as well as for different purposes. There seem to be as many ways of using blood pressure monitors as there are users. This explains why, when designing product, OMRON Healthcare always begins by learning about our customers' ways of living.
Specifically, we conduct visits to users' homes to listen to what they and their families have to say about blood pressure monitoring. Then we try to understand the ways they live, such as when, where and how the monitor is used, and where and how it is kept, if various items are around it, and so on.
Instead of adopting only a manufacturer's perspective of the blood pressure monitor, we focus on the customer's perspective, because the product design must reflect customer use preferences. For example, we put customer actions in chronological order, such as measuring blood pressure, checking measured values, and reviewing past data, keeping in mind the optimal user experience. The start of our design process is thinking of an honest, straightforward way that speaks directly to the user experience.
Evaluating customers' natural discovery without imposing methods
Several factors (such as the cuff, physical attributes, posture, etc.) can affect the readings when measuring blood pressure. But with ongoing improvements on our devices, we aim to ensure accurate blood pressure measurement.
Measuring blood pressure accurately requires the cuff to be applied correctly and to maintain a correct posture. Simply wrapping the cuff around an arm may appear easy, but the way it is wrapped can make a big difference in the readings. Factors that affect this include cuff material and cuff shape, both of which are crucial to determining the ease of wrapping cuff correctly. Physical attributes such as the user's arm size, length, and firmness must also be taken into consideration. We also consider psychological factors, including whether the user feels positive about taking blood pressure measurements, or is reluctant to do so, as these can also influence how the user wraps the cuff around the arm.
To ensure users can correctly measure blood pressure in situations involving a mix of factors, we conduct user tests in Japan and abroad. We repeat alterations and improvements for a wide range of areas and into details. These apply not just to cuff design but to explanations in the user manual and a cuff-wrapping instructions printed right on the cuff.
Unchanging basics for over 10 years
At OMRON Healthcare, we use customer experience information and the latest technology to make consistent improvements to a basic design that has been trustworthy for more than a decade.
At OMRON Healthcare, the basic design of blood pressure monitors has remained unchanged over 10+ years.
Today, measurement can start with the single touch of a button. The display is angled at 25 degrees for easy visibility of measurement values. The connector linking the cuff to the monitor unit is positioned on the unit's left side, making it easier to attach the cuff to the user's left arm. The Start button is positioned so that the right hand can easily push it. And the blood pressure display is in a large, easily visible font and is at the center section of the monitor. The device's own shape intuitively suggests how it is to be used. These well-thought-out design elements have already become a reference standard for blood pressure monitors throughout the world.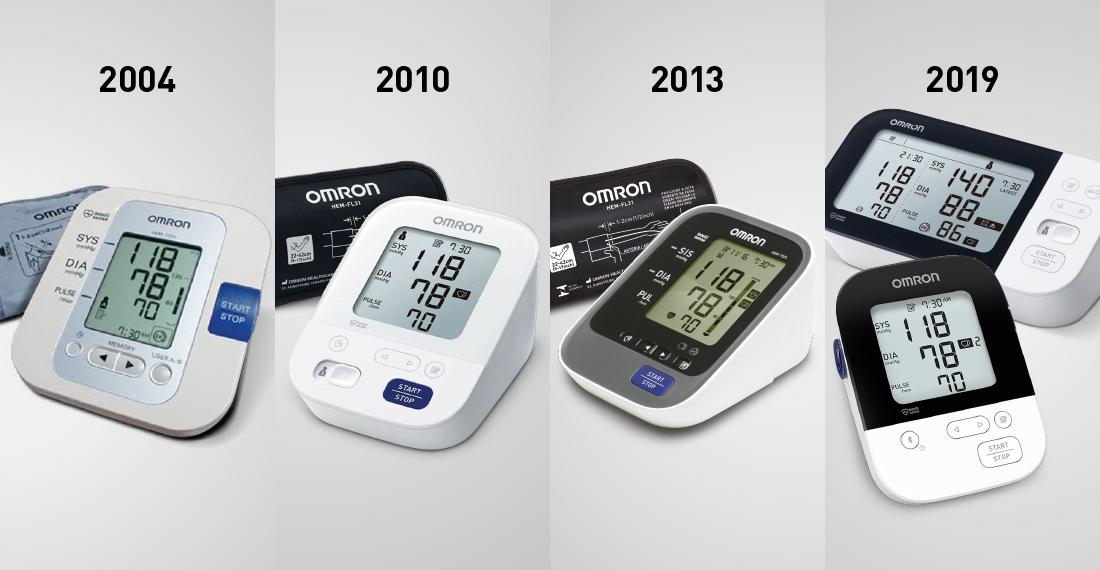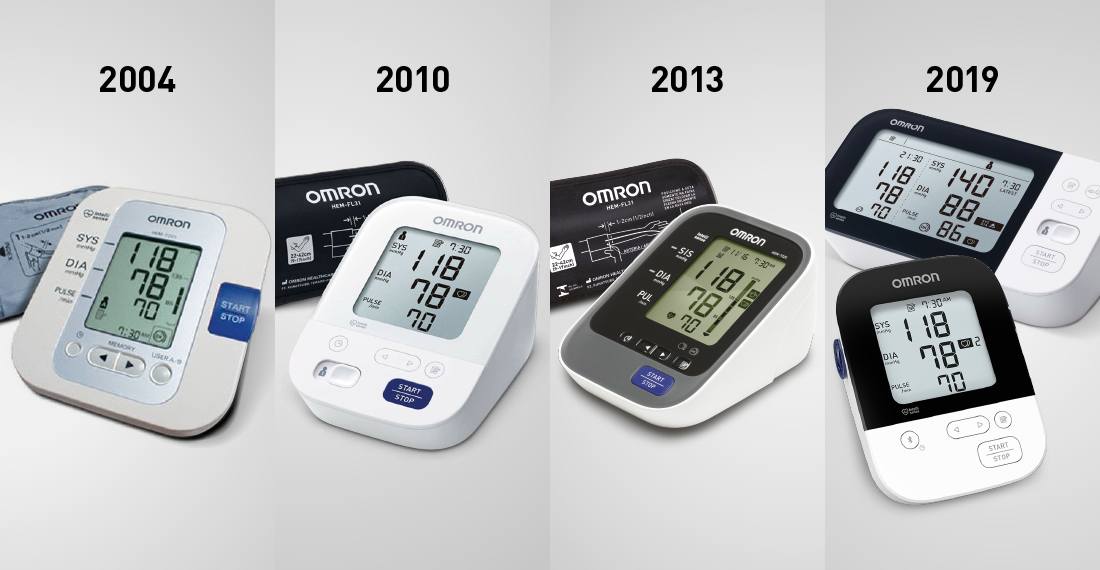 We also pay particular attention to the visibility of the characters and icons that appear on the LCD screen. Icons with improved design are used to help make difficult-to-read explanations easy to understand.
Our hope for encouraging health management through design
Our commitment is to make reading measurement results stress-free for everyone.
As people age, they can become infirm and suffer declining vision as well. They may need to monitor blood pressure even at times when they are not feeling well. Enabling stress-free blood pressure measurement even if the user is feeling unwell is key to ensuring monitoring continuity. A typical example of design support that is useful for this is our " 7-segment " project, designed to combine seven lines for displaying numbers.
OMRON Healthcare has set its own size regulations for 7-segment numbers used on our products. These regulations derive from survey results that targeted users in various age groups, and we also apply our own spacing rules between numbers.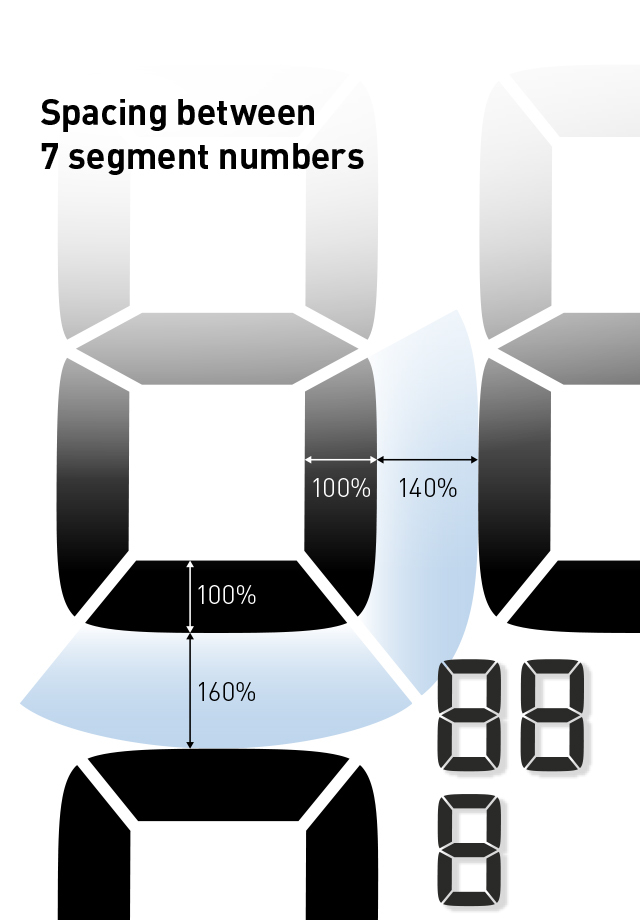 The graph representation of weekly average values and comparative display function are features that support users in continuing their monitoring.
Comparing current and /past values and understanding one's own blood pressure trends and boost user motivation for health self-management. Using a smartphone app lets the user track blood pressure for each time zone, as well as daily, weekly, monthly, and yearly by switching screens. These visual presentations enable users to understand changes by time of day, day of the week, or season at a glance. These features are proof of the role of design in supporting users to continue blood pressure monitoring.

Creating design that blends well into living, to make daily use easy
The challenge is to combine reliability and precision with a design that enables easy use in the everydays.
Another focus for our design team is that the blood pressure monitor is a healthcare device used at home. While reliability and precision are must-haves, a natural shape that easily fits daily living is also important. How do we combine these two seemingly contradictory characteristics? A design that somewhat hides features is not what we're aiming for, but rather a design that's just right in terms of accuracy and ease of use. We maintain this approach not only in devices but also for our smartphone apps. We came up with solutions one by one by repeating research procedures to better discover what kind of information customers need and when.
A device that can always be next to you can naturally change your health awareness and daily behavior. A device that is easily integrated into the way you live. Dressed all in white, it offers the confidence of a medical device as well as friendliness with a soft and comforting feel. To turn all these into reality, we continue our quest for the ideal design.
Thank you for subscribing!