Clinical Research and Development
Home Blood Pressure Monitoring
How OMRON Healthcare has revolutionized the concept of blood pressure monitoring.
Clinical Research and Development
Home Blood Pressure Monitoring
How OMRON Healthcare has revolutionized the concept of blood pressure monitoring.
Bringing blood pressure monitoring into the home
Pioneering blood pressure monitoring by raising awareness of its importance, as well as enabling people to monitor themselves even at home.
OMRON Healthcare's development of home-use blood pressure monitors has its roots in the concept of Health Engineering. OMRON founder Kazuma Tateishi pioneered the concept and was advocating it broadly by the early 1960s.
The concept of Health Engineering is based on considering the human body as a tissue-engineered assembly of countless automatic control systems. Tateishi believed that the application of automation technology to humans would enable them to manage health, diagnose problems, and cure diseases. With this as the starting point in 1961, the Central R&D Laboratory began research and development. Guided by our corporate philosophy, "Business has an obligation to serve society," we were committed to developing home-use blood pressure monitors to contribute to better health for people.
At the time, it was commonly thought that blood pressure could only be measured at a medical facility, so merely developing devices could not popularize blood pressure monitoring at home. In light of this, OMRON Healthcare expanded its scope of activities to include raising awareness among the medical community as well as the general public of the importance of home blood pressure monitoring, and supporting the establishment of international guidelines.
"Empowering people to manage their own health and encouraging good habits helps them maintain good health."
Our dedication to making home BPM a common practice
Dr. Hinohara proposed the importance of home blood pressure management and convinced the world of its evidence.
Today, preventive medicine and behavioral science are widely accepted, but this was not the case a half century ago, when a doctor began advocating these concepts. The late Dr. Shigeaki Hinohara, then the director of St. Luke's International Hospital was a pioneer in home blood pressure monitoring and worked tirelessly to persuade people to accept these new concepts.
Dr. Hinohara delivered a groundbreaking lecture entitled "The Clinical Significance of Home Blood Pressure Monitoring" at the 16th Annual Congress of the Japanese Society of Psychosomatic Medicine in 1975. Dr. Hinohara reported that blood pressure measurements vary considerably depending on where measurement took place, individual lifestyle factors and other conditions. He also pointed out that blood pressure measurements at home tended to be lower than readings at a doctor's office. Dr. Hinohara cautioned against making conclusions about a patient's blood pressure when relying solely on blood pressure readings taken only while the patient is hospitalized or visiting a doctor. He devoted many years to raise awareness of the importance of monitoring blood pressure at home and delivered many lectures to spread the word. Dr. Hinohara also engaged in researching blood pressure monitors that would allow anyone to measure blood pressure easily at home.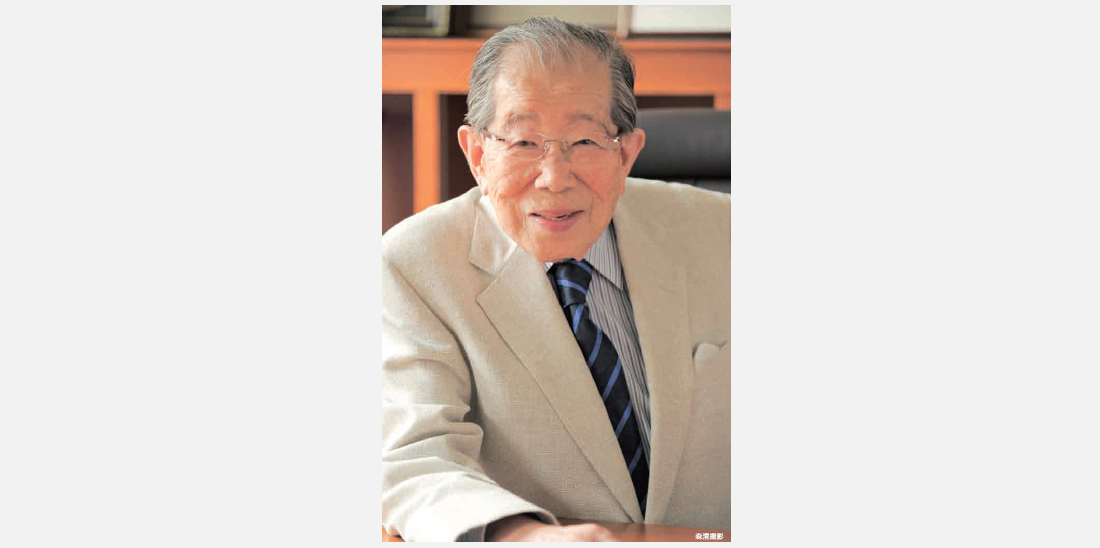 Dr. Hinohara's desire to contribute to better health by popularizing home blood pressure monitoring resonated with OMRON Healthcare.
The cooperation led to the establishment of the Study Group for Physiology and Management of Blood Pressure in 1988. The objective was to provide a forum where the latest insights and research findings on blood pressure management could be easily shared. With this, the study group aimed to equip medical professionals and researchers with the knowledge and ability to take on prominent roles in educating the medical community and the public about the importance and ease of home blood pressure monitoring. This study group remains very active, especially in promoting further important research results. Its influence was felt even in the Japanese Society of Hypertension, which published Guidelines for the Management of Hypertension in 2014 that included the recommendation to prioritize home blood pressure data over office readings in making diagnoses.
Themes of the study group
1. Clinical physiology of BP
2. Techniques of BP measurement
3. Lifestyle and BP values
4. Epidemiology of hypertension
5. Diagnosis of hypertension
6. Hypertension and self-management
Thank you for subscribing!